​India tests nuclear-capable mid-range missile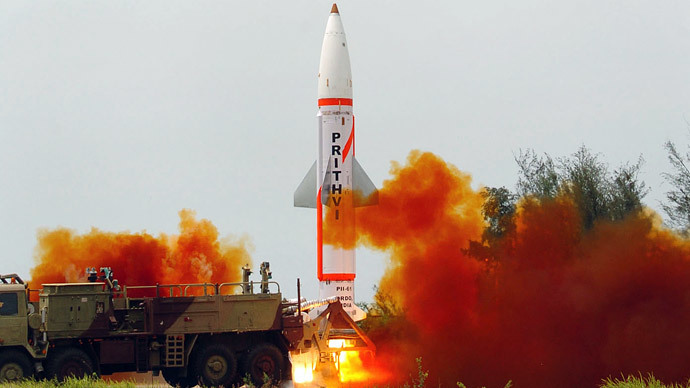 India has successfully test-fired a nuclear-capable medium range Prithvi-II ballistic missile from a military base in Odisha.
"It was a perfect launch. It met all mission objectives," test range director M V K V Prasad told IANS after a successful launch from the Integrated Test Range at Chandipur in Balasore district.
The Prithvi-II missile has a maximum range of 350 km. With a flight duration time of 483 seconds the missile reaches an altitude of 43.5 km, and can carry a up to a 1 ton warhead.
Prithvi-II is India's first native-made ballistic missile and is one of the five missiles being developed under Integrated Guided Missile Development Programme.
The rocket launched on Friday was randomly picked from the assembly line and was launched to test the single digit accuracy reaching close to zero circular error probability (CEP).
The 4.6-ton missile is thrust by liquid propulsion twin engines and uses an inertial guidance system. The warhead is guided by a radar correlation terminal guidance system.
"The missile trajectory was tracked by DRDO radars, electro-optical tracking systems and telemetry stations located along the coast of Odisha," Prasad said.
The Strategic Forces Command (SFC) said that the Indian Army conducted the test as part of a regular training exercise. The last user trial of Prithvi II was conducted from the same base on 7 January 2014.