Moscow pre-inauguration rallies: LIVE UPDATES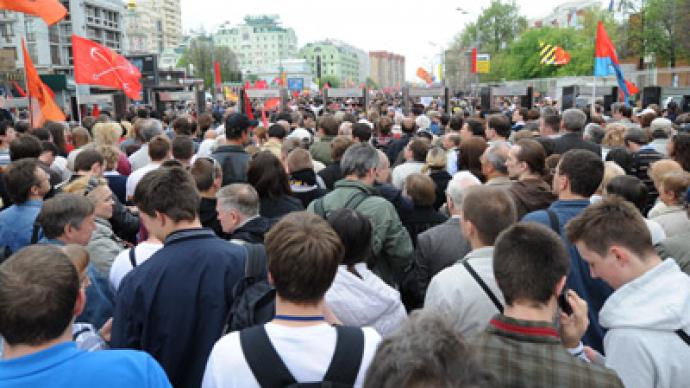 19:00 GMT: We are wrapping up our LIVE updates from the Moscow rallies.17:30 GMT: Moscow prosecutors say they have initiated a criminal case into the provocations at the rally and violence towards police.17:11 GMT: The last demonstrators are leaving Bolotnaya Square. Nearby streets have been opened to traffic.
16:52 GMT: Some opposition protesters have gathered by the police station where they say Sergey Udaltsov and Aleksey Navalny are being held.16:40 GMT: More than 400 people have been detained, say police.
16:34 GMT: Several hundred people and police still remain on Bolotnaya Square.16:10 GMT: Twelve anti-riot police have suffered injuries as a result of the clashes on Bolotnaya Square, the Ministry of the Interior says.15:40 GMT: Rally participants have set up two tents on Bolotnaya Square saying they will not leave until authorities satisfy their demands.15:30 GMT: Reports say some 250 demonstrators have been detained on Bolotnaya Square and nearby.15:15 GMT: Security forces have organized a special corridor through which people can leave Bolotnaya Square. Police address the crowd urging demonstrators to leave .15:10GMT: Police officials say four policemen were injured at the rally, suffering cuts and bruises.14:55 GMT: Clashes between police and demonstrators continue in several locations on Bolotnaya Square.14:53 GMT: Police have shut down the rally on Bolotnaya Square citing violations of rally regulations.14:30 GMT: Police are taking away prominent opposition figures as they try to address the crowd. Boris Nemtsov, Sergey Udaltsov and Aleksey Navalny have been detained.14:23 GMT: Police have detained opposition leader Sergey Udaltsov as he addressed the demonstrators from the stage.14:18 GMT: Police have accused the rally organizers of staging a provocation, saying some demonstrators refused to proceed to the sanctioned venue, blocking the movement of other demonstrators.14:15 GMT: Clashes erupt between police and demonstrators. Rally participants are chanting "Shame on you" and "Let us pass", trying to break the cordon.14:11 GMT: Smoke is rising above the crowd of protesters marching to Bolotnaya Square. The opposition says they have canceled the rally at Bolotnaya and demand TV air time.14:10 GMT: Demonstrators broke the police cordon opposite Bolotnaya Square. Someone in the crowd has thrown a Molotov cocktail, Interfax reports.14:00 GMT: Some demonstrators leave Bolotnaya Square to join the sit-down strike of the oppositionists. The crowd is chanting "We won`t leave".13:50 GMT:  The opposition leaders including Aleksey Navalny and Sergey Udaltsov have started a passive action opposite Bolotnaya Square, RIA Novosti reports. "We have begun a sit-down political strike," Sergey Udaltsov said.13:40 GMT: Several dozen demonstrators have broken from the main rally, demanding police give them access to the Kremlin, chanting "Let us pass."13:10 GMT: A photographer has died while trying to get a better long shot of the rally. The man climbed to the fifth floor of one of a building, but failed to keep his balance and fell to the ground.12:40 GMT:  Some 8,000 people gathered on Bolotnaya Square, police say. 12:25 GMT: Police have cordoned off Bolotnaya Square. The square is surrounded by metal barricades. The demonstrators will enter the square through metal detectors.12:10 GMT: The demonstrators have begun marching towards Bolotnaya Square. They are carrying a 50-meter white ribbon, which has become a symbol of the recent protests. 12:00 GMT: Police have erected a metal barricade around Manege Square and reinforced security in front of the State Duma building. 11:25 GMT: Two activists have been arrested by police for trying to smuggle tents containing fireworks and smoke bombs onto Bolotnaya Square.11:19 GMT: Police have advised organizers of the rally to observe safety regulations when constructing the stage on Bolotnaya Square.11:08 GMT: Activists from the "March of Millions" rally have gathered in Kaluga Square.11:00 GMT: A lorry carrying equipment for the construction of a stage for the "March of Millions" rally has been allowed on to Bolotnaya Square by Moscow police.10:45 GMT: The exits of a number of central Moscow's metro stations will be closed as a precaution during the mass rallies.10:02 GMT: Later in the evening a pro-government rally is to take place. The expected turnout of that event is 50,000.10:01 GMT: The event is to start sometime around 12:00 GMT and last for 3.5 hours.10:01 GMT: The protesters demand snap election of the parliament and president, saying the recent ballots had been rigged.10:00 GMT: The protest is held a day ahead of the inauguration ceremony of President-elect Vladimir Putin.10:00 GMT: On Sunday, Russian opposition is holding a demonstration in Moscow. The so-called "March of Millions" is expected to attract up to 5,000 people to the center of the capital.
You can share this story on social media: