Icebreakers saving ships stranded in Russia's Far East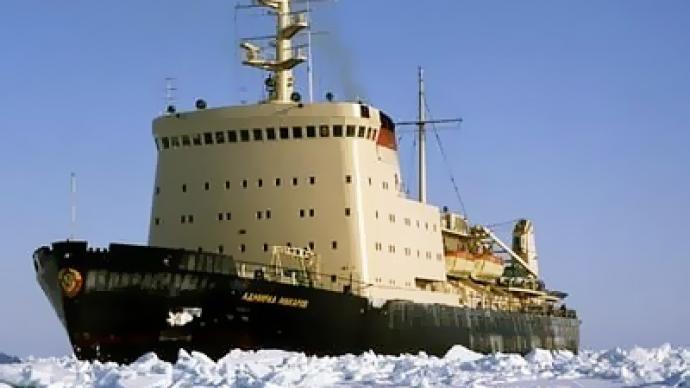 Another Russian icebreaker is on course to help rescue the three remaining ships and 400 sailors trapped by ice off the country's Far East coast.
Icebreaker Krasin is expected to reach the stranded vessels later on Thursday. It will join icebreaker Admiral Makarov which is already at the scene. The Krasin was dispatched to help ensure the safe withdrawal of the ships from the ice trap, as the Admiral Makarov is working in very difficult conditions.The first icebreaker sent to rescue the ships, Magadan, got itself stuck in the ice in the middle of the operation, and had to be taken to safety by the Admiral Makarov.Icebreakers Admiral Makarov and Magadan were initially dispatched to help five ships locked in ice in the Sakhalin strait. Early on Wednesday, Admiral Makarov reported towing to safety the trawler Cape Elizabeth – the first to be rescued. Later on Wednesday, the trawler Anton Gurin was able to reach a safe area unassisted.The vessels have been stranded for about a week now, and the sailors have become quite anxious to be on the move again. In total, around 400 people are aboard the remaining fleet. The captains say there is no immediate danger to the lives of their crew.  They are said to have enough supplies of food, water and fuel. They also have TV and radio which should make waiting for rescue a little easier."As soon as the icebreaker frees us, we'll get back to work. We miss it already," said Grigory Zatelepa, captain of the vessel Sodruzhestvo.Three ships became locked in ice on December 30, in the bay of Sakhalin. The country's transport ministry then warned sailors about the weather conditions in the area. However, some vessels still headed in the direction of the icy waters and two more became stranded.Magadan – a smaller icebreaker – was sent to rescue the stuck vessels. However, it was not powerful enough to get through the two-meter-thick ice shield and got trapped in the ice itself. The Admiral Makarov, which is three times more powerful, was dispatched to help it.The rescue mission has become drawn out because of the tough weather conditions. It has been unusually cold in the region, with temperatures dropping below -17C. That has resulted in the incredibly thick ice, reaching eight meters in some areas. Experts say that the situation is also being worsened by gale force winds. Meanwhile, Prime Minister Vladimir Putin is monitoring the situation and has promised to help the sailors. He discussed the rescue effort with Russia's Transport Minister Igor Levitin and also with the captains of the trapped vessels and both icebreakers. Four emergency helicopters are currently on standby to evacuate the sailors if needed."We know what helicopters are and how dependant they are on weather conditions. So, go with the vessel option," Prime Minister Putin said to Igor Levitin.
You can share this story on social media: