Breaking ice: trapped ships finally moving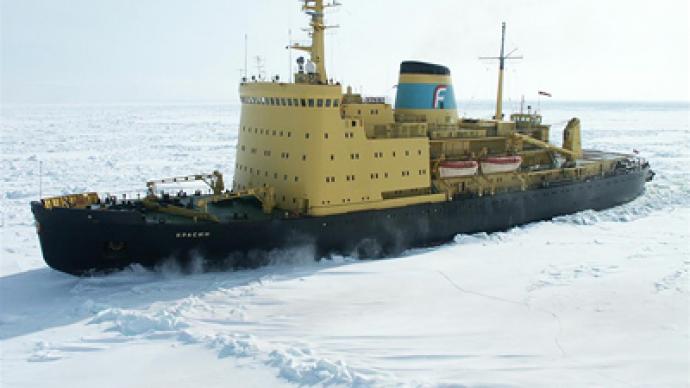 A refrigerator vessel, "Bereg Nadezhdy", stuck in frozen waters off Russia's Far East, has been towed by two icebreakers to safer waters. They are now heading for a supply ship stranded for almost a fortnight with more than 300 people on board.
The icebreakers are up against harsh weather conditions as they struggle to save the "Sodruzhestvo", which is the last to be freed.Earlier on Tuesday, emergency services dispatched a helicopter which picked up a hydrologist off the Admiral Makarov.The team on board the helicopter viewed the area, analyzed the ice flow and managed to find a safe spot to leave the refrigerator vessel. That has freed up the icebreakers to go back the same route they have come down, which means that they can now avoid having to break through further ice coming back and save time for a quicker passage to the last stranded vessel.Still, the final stage of the rescue operation is promising to be the most difficult, said Andrey Krainy, the Head of the Federal Fisheries Agency."The operation has now entered its final and most difficult stage. According to our calculations, it will conclude within 48 hours, to get both ships out," Krainy said.The "Sodruzhestvo," the biggest of the three vessels stranded a week ago, is considerably wider than any of the icebreakers, so both the "Admiral Makarov" and the "Krasin" are joining in on the effort in the Bay of Sakhalin to make a larger channel in the ice simultaneously.According to official reports, there is no immediate danger to the crew, as they have enough food and supplies for the moment.Extreme weather conditions have already altered previous rescue plans. The ice thickness varies from 0.5 to 2 meters, and the temperature is -27 Celsius with strong northerly winds.
On January 9, the icebreaker "Krasin" reached the "Bereg Nadezhdy", with 35 crew members on board, to help another icebreaker already at the scene, the "Admiral Makarov"."The ice layer may be up to one-meter thick," the captain of the "Bereg Nadezhdy" told RT earlier. "But the problem is that ice is like a sliced pie consisting of many ice layers which have gone on top of one another. There are about two or three layers of ice, which in some places gives us about two-meter-thick ice to break. We are working in a normal way, going through a routine. The food and fresh water stock is sufficient."The "Admiral Makarov" reached the scene last Wednesday after enormous effort, breaking a channel through the ice and managing to tow away the vessel "Professor Kizevetter" and trawler "Mys Elizavety" that got in trouble on December 30.
"One of the other ships tried to free us, but it was unsuccessful. We are very happy, we will be home soon. We hope everything will be alright," Dmitry Sova, the second mate on the Professor Kizevetter, told RT. The rescue operation has been monitored from Moscow and by local authorities.The Sea of Okhotsk, just off the far eastern coast of Russia, is known to be a difficult place for ships to navigate in the winter, but conditions have been greatly worsened by the extreme weather conditions this year.Ferocious gales and very low temperatures led to the formation of eight-meter-thick ice in some places, leaving the vessels simply unable to move.Russia's Transportation Ministry had warned sailors about the weather conditions in the area. However, some vessels still headed in the direction of the icy waters and became stranded.One of the rescue ships also ran into trouble. The first icebreaker that was sent to aid the stuck vessels, the Magadan, was not strong enough and required additional help.The current rescue operation is not just a complex procedure, but also an expensive one. The cost is estimated at around US$50,000 per day. Authorities will most likely be looking now to see whether the companies that own these vessels should have allowed them to go to that area in the first place and who should be hold responsible for the decisions taken.Sara Firth's blog
You can share this story on social media: