Fair trial for Gaddafi's son in Libya 'impossible' – ICC lawyer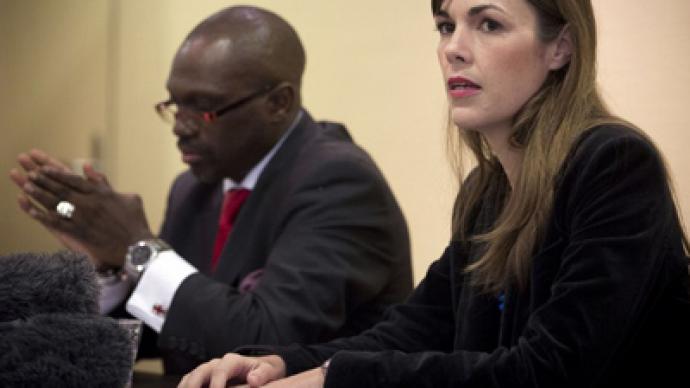 An independent and impartial trial for Gaddafi`s son Saif al-Islam is "impossible" in Libya, International Criminal Court defense lawyer Melinda Taylor claims. Taylor was freed this week after spending a month behind bars in Libyan Zintan.
In her first public speech since being released, Taylor said her detention shows that Saif al-Islam would not get a fair trial in a Libyan court."Amongst other things, the Libyan authorities deliberately mislead the defense concerning whether the visit with Gaddafi would be monitored," she said.Taylor also said that the defense intends to place these issues before the ICC Pre-Trial chamber and their report will be filed by July 11th.The lawyer and three other ICC members were accused of breaching national security after they met with Saif al-Islam. The four were subsequently arrested and held in detention in the northwestern town of Zintan for almost a month.  Libyan authorities claim that ICC members tried to pass an encoded letter to jailed Saif al-Islam.Taylor, however, claims that her actions in Libya were "consistent" with her legal obligations.
Immediately after their arrest, she appealed to the Libyan authorities, informing them that if they had any concerns regarding her misconduct, they had the right to file a complaint to the ICC,  the lawyer says. She also pointed out that she had full immunity from arrest, detention or any other investigative action and any such measure from Libyan authorities would violate international law.While in detention, Taylor said, they were treated with "respect and dignity." They were, however, only allowed one five-minute telephone call with their families.The ICC members were only released after the court president apologized for the incident and vowed to investigate the case. Saif al-Islam, who is accused of crimes against humanity in Libya, was arrested in Zintan last November as he was trying to flee to neighboring Niger following the fall of his father's regime. The ICC has since repeatedly expressed worries over his trial in Libya and asked for his extradition to The Hague.
Political commentator Luke Samuel told RT that the ICC is only reaping what it's sown, as the institution "was very much a part of the uprising in Libya."Samuel said the ICC is often used as a political mechanism in Western interventions. In the case of the Libyan uprising, the ICC immediately issued indictments for Gaddafi and his family, thereby legitimizing the intervention."What the ICC effectively did was artificially give this rebellion a sense of unification, an artificial sense of a political purpose, and this in the end proved extremely destabilizing."
The state's legal institutions in post-Gaddafi Libya will simply not allow for a fair trial for the deposed leader's son, political scientist Nabila Ramdani told RT."It is very obvious to anybody following the situation in Libya that it is not a country that is able to offer a fair trial to Saif Gaddafi for the very reasons that it does not have the structures to do so," she said. "And the latest developments involving an ICC lawyer being detained in Libya prove that."
You can share this story on social media: