Crisis cash in: Hungary offers citizenship for investment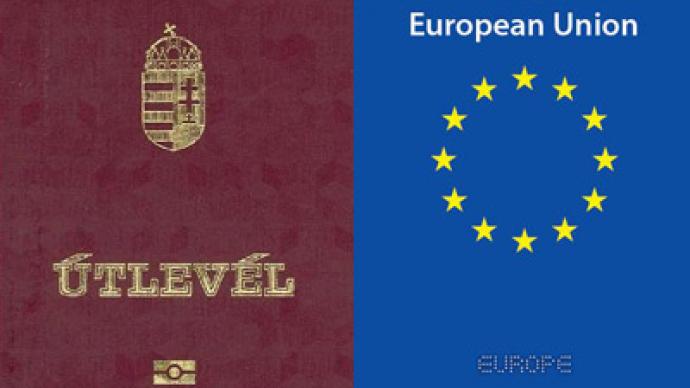 Hungary may offer wealthy foreigners the chance to purchase citizenship - if they agree to invest at least €250,000 in the indebted country's economy.
The potential investors – and future "citizens" – will have to buy special government bonds, leading to preferential immigration treatment for them. Once acquiring the Hungarian passport, the fresh citizens will be able to stay and work in the EU."The goal of the modification is to create the institution of 'investor residency' in Hungary," the lawmakers who put forth the legislation wrote in their proposal. The move has attracted new investors, mainly from China. "It will actually be a question of details because what is being proposed is a very special kind of citizenship for people who will die by government bonds, and it's obviously being aimed at wealthy Asians – particularly Chinese," Dr. Helen Szamuely from the Bruges Group told RT. But the EU is hardly a tax haven these days, so the proposal begs the question of whether there are enough people wishing to become "Hungarian" to make the venture worthwhile.  Dr. Szamuely says the proposal could make it possible for wealthy Chinese citizens to become "expats" in other countries."The biggest question is whether they will be living in the EU or become expats in other countries, like Hong Kong, where the taxes are considerably lower. So you could end up with a curious situation of Chinese millionaires – or billionaires – becoming EU citizens only to decamp to Hong Kong," she said.Hungary has billions of euros worth of foreign currency debt, equivalent to 78% of its annual economic output, with the country's debt being the highest in Central and Eastern Europe, according to Moody's Investors Service.Budapest asked for a financing backstop from the EU and the International Monetary Fund, but talks are dragging on and analysts see only a 50 per cent chance of a deal.The government even began a commercial campaign in October, stressing it won't give in to IMF demands. No formal talks on the matter have taken place for four months.Across the globe, residency or citizenship is also offered to foreigners who invest in a country's economy. Canada used to allow "experienced business people" willing to invest 800,000 Canadian dollars ($800,376) to settle in the country. However, Hungarian Prime Minister Viktor Orban adopted a highly nationalist rhetoric concerning tackling the country's problems, angering its neighbors when he blasted Brussels for interfering in Hungary's internal affairs, saying: "We decide what's important and what isn't, from a Hungarian perspective, with a Hungarian mind-set, following the rhythms of our Hungarian hearts."As might be expected, this latest move has also provoked a harsh reaction from Hungary's European partners."The other carrot being dangled is that of course if you are a Hungarian citizen, you are an EU citizen – which is what is sounding alarm bells with some other EU countries," Szamuely said.
You can share this story on social media: