Hosni Mubarak's visit to Moscow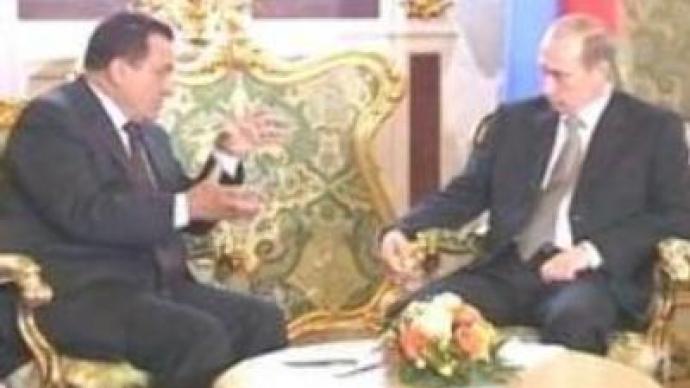 Egyptian President Hosni Mubarak has arrived in Moscow on a three-day official visit. It's his sixth visit to Russia since taking office in 1981. The pressing problems for him to discuss with Russian top officials are the Middle East and Ir
The usual topics of nuclear energy, oil and gas production and trade cooperation will also be addressed. Russian Foreign Ministry spokesman Mikhail Kamynin says Moscow appreciates Cairo's efforts to end the deadlock in the Arab-Israeli peace process. A million Russian tourists visit Egypt annually – a symbol of warm relations which have developed between the two countries over the past 60 years. This was reaffirmed by the visit of president Putin to Cairo in April 2005 – the first to Egypt by a Kremlin leader in over 40 years. The outcome of this strategic partnership has been increasing economic ties and numerous projects, one of the most important being the Aswan Dam, completed in 1970 with Soviet technical and financial aid.
Magdy Deif, Former Egyptian Press Councilor in Russia, says:
"The former Soviet Union was one of the first countries to recognize the 23rd of July revolution. Egypt at the time was a leader of liberation movements in Africa and the Third World, which were supported by the Soviet Union. On the 26th of September 2003, celebrations were held in Moscow and Cairo commemorating diplomatic ties between us. This visit comes at a critical time for the international community from a political perspective. There are two heated issues; Iran and North Korea's nuclear programmes. Russia has had a stronger position regarding both, in addition to its active role in the Middle East peace process. These topics will be of mutual concern during the leaders' talks."
Egypt is seeking to increase trade with Russia to 2.5 billion dollars over the next five years, as well as attract further Russian investment to reach 250 million dollars. Egypt and Russia's Gazprom company recently signed a memorandum of understanding regarding cooperation in Egypt's natural gas sector, including exploration, sharing technology and marketing gas. Egypt has also offered to create a Russian economic zone with privileged trade and taxation conditions. The aim is to attract enterprises, such as car and machinery manufacturers, allowing them to benefit from Egypt's trade partnerships with countries in the Middle East and Africa.
You can share this story on social media: