Hosni Mubarak in coma, but off life support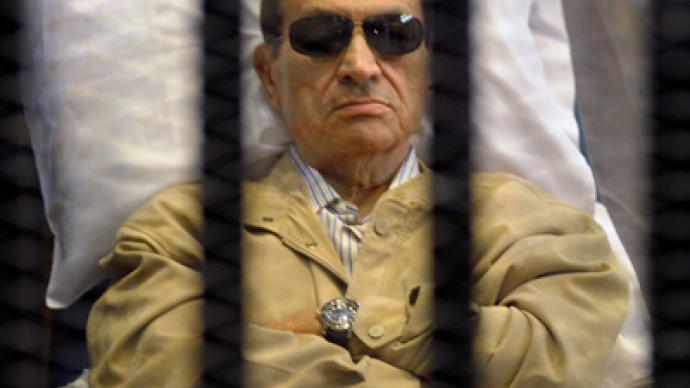 Egyptian security officials report former president Hosni Mubarak remains in a coma but has been taken off life support systems he was on after heart failure Tuesday night. His heart and other vital organs are said to be functioning properly.
Previous forecasts on the health of the 84-year-old ousted president were grim. He also suffered a stroke overnight, was brought to a military hospital and put on life support.A team of 15 doctors is supervising the condition of Mubarak, who needed help with his breathing. "Hosni Mubarak is clinically dead," declared the official MENA news agency soon after the former president was moved to the military hospital in Cairo. "Medical sources told MENA his heart had stopped beating and he did not respond to defibrillation."Later reports, however, suggested that Mubarak is not clinically dead but remains in a coma and on life support. Mubarak's lawyer has also confirmed the ex-president is alive and on a life support, Reuters reported.As Mubarak fights for his life in a hospital bed, hundreds of thousands of Egyptians have flooded Tahrir Square to protest the ruling military council's decision to grant itself legislative power.Hosni Mubarak, 84, had been moved to a military hospital in Cairo on Tuesday, after suffering a heart attack, after which he went into a coma. Mubarak suffered from high blood pressure and an irregular heartbeat.Controversial news of Mubarak's clinical death comes weeks after an Egyptian court sentenced the former president to life imprisonment for his role in the killing of over 800 protesters during the 2011 revolution that resulted in his ouster.His conviction sparked renewed demonstrations on Tahrir Square, with many Egyptians claiming Mubarak should have been put to death. Despite being arrested last April, poor health had kept Mubarak under the care of medical professional rather than a prison warden.Prior to being moved to a military hospital just within Cairo city limits, he had spent time at a medical care facility in his beloved Red Sea resort of Sharm el-Sheik.After being visited by his family, Mubarak allegedly told his wife Suzanne, "They brought me here to kill me," Reuters quotes the Egyptian Al Masry Al Youm daily as saying, citing anonymous sources.
You can share this story on social media: