Hooligans blamed for 'satanist' blast at church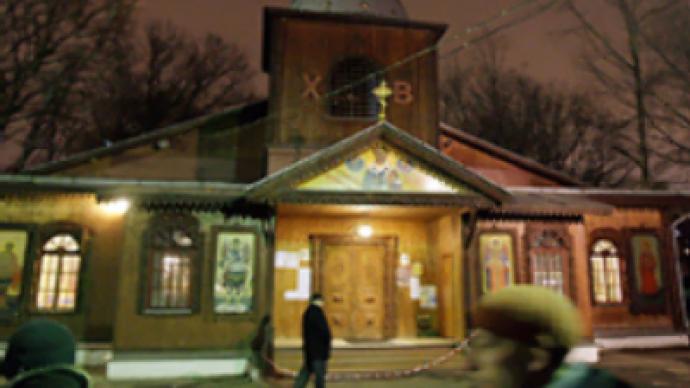 Police are investigating whether Satanists could be behind an explosion at an Orthodox church in southern Moscow on Sunday.
An officer involved in the probe told Interfax they hadn't ruled out the involvement of occult groups in the incident. He also said "the criminals have already been identified."
Moscow patriarchy has dismissed terrorism at the church of Prelate Nikolay. Church officials said there were not enough people at the evening mass to warrant a terrorist strike.
Police are pointing the finger at hooligans and say the incident will be probed in this light.
Fifteen suspects were taken in for questioning in the two hours after the explosion. However, sources say the explosion's organisers have yet to be caught.
The police have widely distributed identikits of the criminals they believe were involved.
Eyewitnesses say two young men of Slavic appearance, aged about 16-17 years of age, put a cloth bag with a self-made bomb on the floor of the church and then disappeared. Smoke started to come out of the bag and in a few minutes it exploded.
The blast in the church in the south of Moscow was heard at around 18.40 Moscow time during mass. About 50 people were present at the time.
Police say the bomb equaled about 50g of trotyl equivalent.
The explosive mixture was packed into a three-litre glass jar. Bomb experts are investigating how the home-made device was made.
It is already known that the mixture did not contain any destructive agents, ITAR-TASS reports referring to a police source.
Two people, a 50-year-old man and the 62-year-old woman were taken to hospital with injuries. The condition of both is satisfactory.
Representatives of the Russian Orthodox Church have been shocked by the incident.
"There have been arson attacks on churches, attacks on clergy, but explosions – this is the first time for that", Vladimir Vigilyansky, a priest from the Moscow patriarchy press service.
You can share this story on social media: