Home education: drug addicts' kids get a chance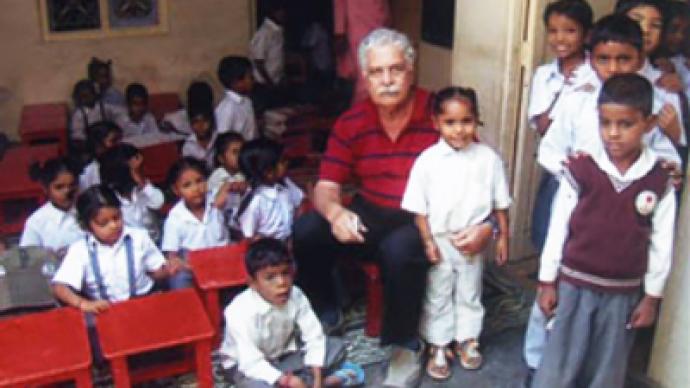 Maqboolpura, a slum on the outskirts of the Indian city Amritsar is known as a "place of widows," because the multitude of drug addicts there that die from their fatal habit leave behind traumatised spouses and children.
In this miserable scenario, where addiction has become epidemic by claiming hundreds of lives, few brave hearts have taken the courage to come forward to educate the drug addicts' children and save them from this fatal habit.
"Place of Widows"
The locality gained its notorious name after it came into news a decade ago after a local newspaper covered the death of 30 householders in three years, all due to drug addiction. After reading this report, Brij Bedi, a social worker who has an NGO called Citizen Forum, went to this locality where a teacher-couple, Master Ajit Sing and his wife Satpal Kaur, introduced him to the area.
This 13-lane area in Amritsar, Punjab, is home to about 200 families and each house has lost at least one person to liquor and substance abuse. Every woman in Maqboolpura has lost a father, brother or husband to addiction and there is a painfully stark similarity in their stories.
The report made such an impact on the teacher-couple that they turned their two-storied house in the congested locality into a school for children of drug addicts in 1999. The family of five virtually shifted to their master bedroom while the rest of the house was converted into a school called Citizen Forum Vidya Mandir with 22 students.
Since de-rooting the drug addiction seemed like a Herculean task, Bedi and Singh thought of doing something to save the next generation. "I was worried about saving the children. I told Masterji (Ajeet Singh) to gather 20 children so that we could educate them", recalls Bedi, who is also the husband of India's first woman Police officer Kiran Bedi.
"I've lost too many of my classmates to addiction," says Singh, who too is a teacher by profession and hails from the same slum area. "We started really small but a newspaper article brought Brij Bedi to us, after which everything changed."
Funding
The money came from the couple's modest salaries and the teachers were mostly senior students from the same area. The school not only teaches the children of drug addicts, but also from the poor and needy families. Today it boasts 425 students on its class rolls.
However, it has not been a bed of roses for Brij Bedi and Ajeet Singh as they had to struggle to keep the school running. As more and more students poured in from nearly all nearby houses, space became a major constraint, but the problem was solved when the school was chosen for the prestigious Harmony Award it received from the Dalai Lama in 2003. The award had a cash component of INR 1 lakh (approximately $20,000) and another anonymous businessman sent a demand draft for an equal denomination.
With enough money in hand, the trio expanded the school building and constructed another smaller building. Today the school not only provides education to the children, but also gives them a sense of being momentarily relieved of the sickening reality back home.
Kids' Backgrounds
The kids, most of them fatherless, are now also provided a meal per day, paid for by Kishan Kumar, a senior government officer.
Singh's two sons Harbanpreet Singh and Amanpreet Singh, who are students of a local school, also play an important role. Most senior students have been trained to give classes at the lower level.
The principal, Parveen Kaur, is a young 27-year-old girl from the area, who after completing her graduation from college decided to devote herself to teaching. The other two students-teachers are Rimpi and Veena Sharma, two sisters whose father Kamal Kishore, a drug addict, died nine years ago. There is no breadwinner in their family except their mother, who works in various homes as a sweeper. After her own classes, Veena also teaches the junior classes.
The only thing that gives the organizers strength to go on is the enthusiasm of the students, says Bedi. When you talk to Sapna, a student of sixth grade, she too tells you that her father died at the age of 30 due to drug addiction. Now her mother, who works as a domestic help in several houses, is taking care of her. "I wish to become a scientist," she tells happily.
Fourteen-year-old Rajwant Kaur, who dreams of being in a television series, has suffered the pain and anguish of drugs. His father, who is a sanitary worker and a drug addict, used to beat her mother regularly and she left home. He, his mother and siblings, Sapna (15) and Anjali (13), had to run away from the father. Now they live with relatives.
Another student is 13-year-old Daljit Kaur, who studies in class six. Her father is behind bars due to drug addiction and her mother prefers him to be in jail and is not willing to bring him back home once he is out. "I want to go far away from this place and become a doctor," says Kaur, with hope in her eyes.
Bedi's wife Kiran Bedi visited the school a number of times and announced a contribution of INR 6,000 (approx $125) per month from Navjyoti, an NGO she heads. "It is the most unique and inspiring work at hand which involves total dedication and commitment."
However, the officer feels that the Indian government needs to step in to "add strength and sustainability to the project so that it keeps going."
Profession to live by
In a bid to make students self-sufficient, the school also teaches stitching, sewing and stuffed-toy making. This not only serves as a hobby class but also helps the children, especially girls, to earn some extra bucks to run their house.
Keeping pace with the current IT trend, the school has decided to open a computer centre for children. It will be opened by Kiran Bedi, the female police-officer, next month and will endeavour to provide the slum dweller kids a chance to log on to the new world outside their gloomy lives.
Sports
To focus on the all round development of the students, the school also engages the students in various sports. While most of the students are happy to play basketball at the backyard there are others like Ranjeet Kaur, who won Bronze Medal in the national games in wrestling. There are many other female wrestlers who played at national level and brought laurels to the school, despite having to do domestic work after classes.
Global help
Financial support comes from various Indian organizations and individuals, many British, American, Canadian and European citizens have also come forward to help the school raise funds. One of them is Satdeva Kaur, a resident from Germany and a social worker who read about it in the paper and now supports the school by regular transfers.
Another is Gurmukh Kaur Khalsa, a well known yoga instructor based in Los Angles, who visited the school recently with a team of ten ladies. She was so impressed with the school that she decided to collect money in the US on the school's behalf.
Emotional bonds
Satpal Kaur, wife of the founder Ajeet Singh, says she feels blessed by the school as it has given her "so many daughters as I have none of my own." She, along with her husband, could have moved to a bigger and better house, but prefer to stay in the same house-cum-school as "smiles on the faces of these children is worth many such big houses."
Nidhi Sharma for RT
You can share this story on social media: