Miraculous Holy Fire lit in Jerusalem, to be delivered worldwide
Thousands of Christians have gathered in Jerusalem to light torches and candles from a holy flame that 'miraculously' emerged from the tomb of Jesus in the Church of the Holy Sepulchre on the eve of Orthodox Easter.
The Holy Fire ignites, apparently of its own accord, from the tomb of Jesus Christ at the Church of the Holy Sepulchre in Jerusalem. It has been descending on the church for more than 1,500 years and it is believed that the year in which it doesn't light will be the last year in the history of man.
The fire descends on Jerusalem during a prayer by the Patriarch of Jerusalem and All Palestine, who then passes the flame to pilgrims. The pilgrims light 33 candles –that have all been tied together - from the fire to symbolize every year of Christ's life.

As the fire doesn't burn during the first moments after its appearance, pilgrims wash their faces and heads in it, apparently suffering no injury.

A delegation from the St. Andrews foundation will be taking the Holy Fire from Jerusalem to Moscow and dozens of Russian cities - from Sevastopol to Yakutsk, in addition to other Orthodox churches abroad, including Rome and Tallinn.

A special flight to bring the flame to Moscow will leave from Ben Gurion airport in Tel Aviv, arriving in the Russian capital at 10:30 pm local time.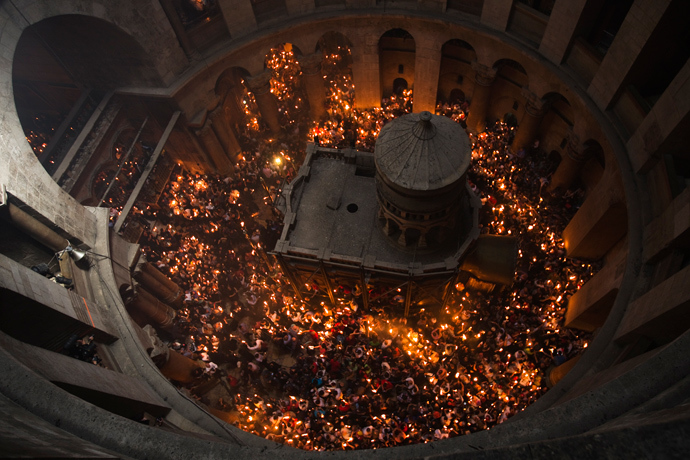 This year marks the eleventh consecutive Easter that The Holy Fire, which symbolizes the miraculous light of the Resurrection, is being brought to Russia from Israel.

This year it will be taken for the first time to Crimea, the former Ukrainian region that became part of Russia in March.

The flame, described by Orthodox Christians as an annual miracle, was lit on Holy Saturday – the day preceding Orthodox Easter - after Patriarch Theophilos III of Jerusalem delivered his prayer.

In the morning the room had been carefully checked for any possible sources of fire. After this, the room was sealed in the presence of Israeli police.

The patriarch then passed the fire over to believers.
Although the Holy Fire has been a major Eastern Orthodox ritual for so long, Western Catholic and Protestant churches do not recognize the practice.