Hijacked ship's crew desperate for aid
Published time: 2 Sep, 2009 15:53
Edited time: 2 Sep, 2009 19:53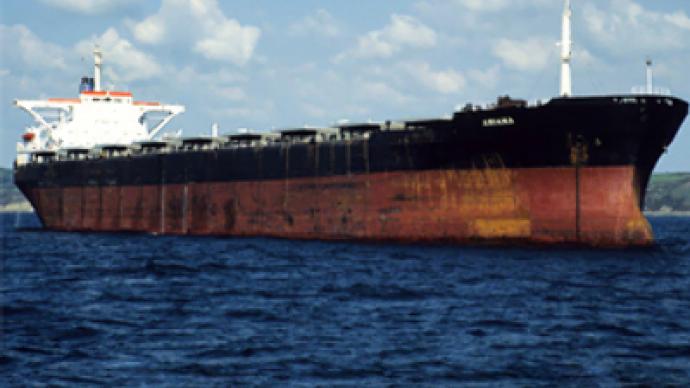 The Ukrainian crew of the Greek bulk carrier "Ariana" that was seized in May by Somali pirates is calling for help. They are being kept in poor conditions and some are in dire need of medical help.
The crew members liaised Tuesday through a satellite telephone with Ecoterra International – a Nairobi-based ecological organization affiliated with anti-piracy activities off Somalia's coast and other issues.
According to its officials, the crew, which has been kept hostage for nearly four months now, is urging the authorities to speed up negotiations, as well as to hospitalize one of the two female members of the crew, who is reportedly very ill.
"We are in utter despair and very exhausted. Please help us," Itar Tass quotes Captain Voronov as saying. He is the head of the crew of 24 Ukrainian sailors, including two women: the ship's cook Larisa Salinskaya, who is said to require medical assistance, and orderly Natalia Los.
However, the incoming reports about the woman's medical condition are conflicting.
According to the sources close to the telephone conversation, Larisa Salinskaya managed to discuss her problems with a Ukrainian physician in Nairobi, who immediately concluded that she was in a "life-threatening condition" and had to be urgently hospitalized – something the pirates refused to fulfill.
On the other hand, in one of her emails, as Svoboda Radio reports, Salinskaya informed she had a miscarriage and required medical assistance. At the present moment, though, as one of her fellow crew members Sergey Yuzvak advised, the woman had received medical help. Instead, the lives of all crew members are now in jeopardy.
"They are out of food, and are now fed with scraps," Yuzvak informed. "They bring rotten rice from the mainland and dirty water – and feed us. All the crew is now suffering from stomach problems. In case negotiations drag on, the pirates threaten to start killing the crew members."
Initially, the pirates demanded a ransom of $10 million. However, the sum later "shrank" to $7 million and then $3 million. Nevertheless, the Ariana's owner – Candela Shipping – and British operating company Seven Seas Maritime Ltd. are not ready to pay more than $1 million.
"The main pirate is now expected to arrive to Ariana to take part in negotiations," Sergey Yuzvak explained. "However, the owner does not wish to pay."
Because of this – according to the second engineer's mother, Larisa Murugova – the hijackers have now started beating up the crew members, including her son – 36-year-old Andrey. The woman claims her son is now suffering from a heart condition.
The bulk carrier Ariana was sailing under a Maltese flag and carried a cargo of 10 thousand tons of soy beans from Brazil to the Middle East, when it was hijacked by Somali pirates in the Indian Ocean on May 2, some 250 nautical miles south-west of the Seychelles. The ship's registered owner is the Athens-based company, All Ocean Shipping.
Ukraine's Foreign Ministry refuses to disclose the details of negotiations from their side. Instead, it has instructed the country's embassy to Greece to take care of the situation. The Ministry has only published a note on its website, stating that the negotiation process is not moving on easily and that the authorities are taking "all measures necessary to liberate those taken hostage."