Filipino cops face demotion over posing in front of hijacked bus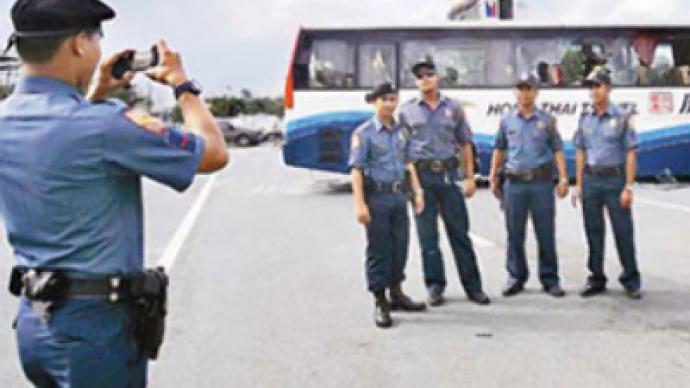 Several Filipino police officers who took "souvenir pictures" near the hijacked Hong Thai travel bus, are facing administrative investigation.
Photos in which smiling policemen were posing in front of the bus involved in a hostage-taking incident that claimed the lives of eight Chinese tourists were posted on social networking sites, raising anger in the global community.
The chief of the National Capital Region Police Office, Leocadio Santiago, said the police officers could face administrative sanctions for neglecting their duties and for violating the Philippine National Police (PNP) Code of Conduct, ABS-CBNnews.com reports.
Santiago added that three of the seven police officers who took pictures near the bus have already been identified. They are members of the Regional Public Safety Batallion.
"Anything that is brought out to the public can be used against you. Public office has its limitations," he is quoted as saying.
If found guilty, the police officers in question may be cited for poor conduct and disqualified for promotion – even demoted.
The tourists were killed when a Filipino ex-policeman hijacked a Chinese tourist bus with 25 people in the capital Manila, demanding that he be reinstated to the police force.
You can share this story on social media: