Hezbollah leader's speech stirs protesters against Lebanese PM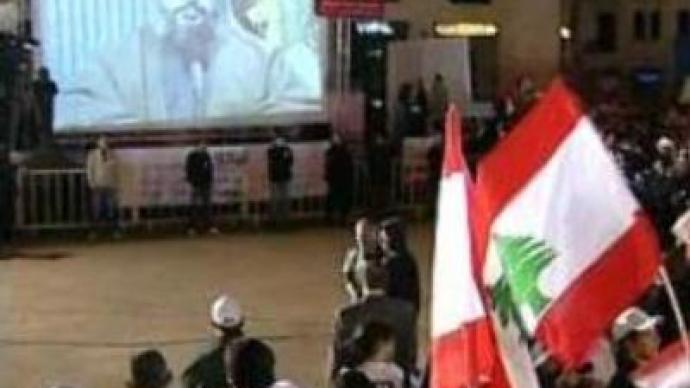 Protests on the streets of Beirut have been further intensified by Hassan Nasrallah. However, Prime Minister Fouad Saniora, emboldened by Saudi Arab and U.S. support, has vowed to stand firm against the protests.
Sheikh Hassan Nasrallah rallied his supporters to continue putting pressure on the government. In the second live address to a large rally since the summer war with Israel, he vowed to topple Prime Minister Fouad Saniora's government. According to Hassan Nasrallah, there will be a huge demonstration on Sunday in Beirut. The speech gave an impetus to the protesters and raised the level of tension between them and the government.Despite the pressure, Prime Minister Saniora is still refusing to resign. He says his government has the constitutional legitimate right to be in place and that he will not step down under any condition.While the protesters barricade him in the government complex building, the prime minister has been meeting a number of foreign delegations, who have been in the country expressing support for its government. Visiting diplomats have urged both sides to return to the negotiation table, pointing out that the real loser of the current conflict is Lebanon itself.Meanwhile a Russian military unit, which helped rebuild 9 bridges, restoring vital transport links across the country, is returning home. The troops left their basic camp and logistical equipment behind to help their Lebanese colleagues. The Russian effort was warmly welcomed by both the people of the country and its officials.
"I think the relationship between Russia and Lebanon is good. Russia has been one of the best friends of Lebanon throughout the last 2 years. Russia has always stood next to the Lebanese people. So Russia has been playing a very important role in ensuring stability in Lebanon,"
the majority leader of the Lebanese Parliament, Saad Hariri, told Russia Today.
You can share this story on social media: