Helping kids cope with the recession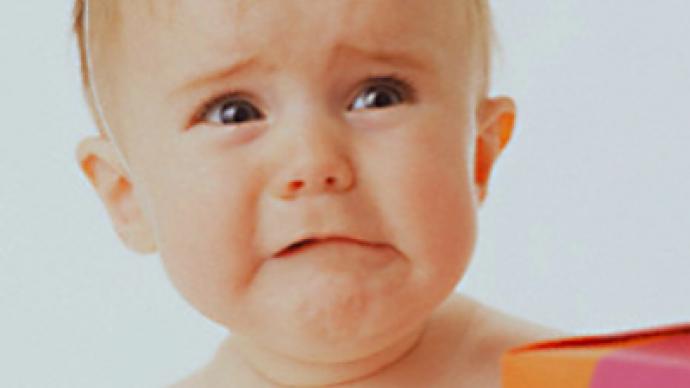 The economic crisis has hit not only the finances of Russia's parents but also the psychological wellbeing of their offspring. Counselors say recessions can affect children emotionally.
According to the head of the analytical department of the All Russia Centre for Public Opinion Research, Leonty Bizov, many households in Russia have had to tighten their belts because of the recession.
"Economic difficulties have first and foremost impacted families with children, as it is impossible to raise a child on bread and water," he told Nezavisimaya Gazeta newspaper. "Many have to cut back on hobbies and transport expenses."
But for some families the situation is far more serious. 33-year-old Iya Koroliova, who is expecting a child, says she is already economising on baby expenses.
"We have made a child blanket out of an old one," she said. The woman added that her older 14-year-old son cannot eat at school any more as he doesn't have any pocket money.
The family of 16-year-old Tatyana had to reduce their everyday expenses to pay for her tutor, who is preparing the girl for university entrance exams.
"Nezavisimaya Gazeta" said the State Duma has prepared a draft law to spend 147 billion rubles to help families in this difficult time.
The source said that the package of government measures includes increasing unemployment benefit to a maximum of 5,000 rubles (less than US $200) a month for unemployed fathers as well as supplying families with free food products and school utilities.
Despite the inadequacy of the proposed measures, Russian MP Alexander Bednov doubts that the law will pass parliament.
"The budget is set in advance," he told the newspaper. "To spend new money, we need to earn it. For this to happen oil prices have to increase."
Psychological impact on children
Meanwhile, psychologists say that children's emotional life is also affected by the crisis.
Russian Academy of Science specialist Evgeny Shaposhnikov said that the age between 7 and 12 is the most problematic.
"Before seven years, children are unconcerned with their parents' worries," she said. "Then they develop empathy but are unable to comprehend what is going on and develop anxiety."
According to him, it can result in headaches, insomnia and the worsening of chronic diseases.
However, sometimes it is parents who inflict anxiety and stress on their own children.
In January, psychologist Alevtina Shevchenko treated a schoolgirl who couldn't control her eating. She developed the disorder several months prior to the consultation. The child, from a financially secure family ,feared hunger and food deprivation.
It turned out that the girl's parents instructed the girl on "emergency situations" to develop "the feeling of responsibility."
Specialists advise parents and teachers to explain to children what the crisis is and that is something that happens from time to time.
Shaposhnikov recommends arraning a family gathering where parents can explain to children how the family is affected and ask them to be more understanding of any changes in the family lifestyle.
He believes that the crisis will make families stronger in the long run.
You can share this story on social media: