Unique or US replica? Russia tests its own 'heat ray' cannon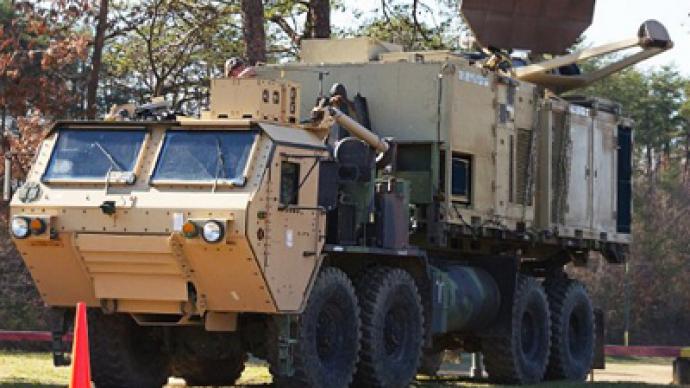 After a wave of increasingly bombastic rhetoric promising military modernization, Russia has unveiled one concrete project. It is a non-lethal heat ray, similar to the US Active Denial System.
The as-yet-unnamed weapon "will emit a high-frequency electro-magnetic ray. It will cause unbearable pain, but no damage to internal organs," said Lieutenant Colonel Dmitry Soskov, who is involved in developing the device.The ray uses a similar operating principle to a microwave oven, which itself borrowed its technology from World War II military radars. The focused electro-magnetic radiation can reach a target up to 300 meters away, is not affected by smoke or dust in its way, does not damage clothes, and takes only a few seconds to warm up to uncomfortable levels for human skin, says Soskov.With the right mirrors to deflect the ray, it could be fired from around corners, and inside buildings. The official said, the device is light enough to be fitted to a van or military jeep.Affecting only the very top layer of the skin, it only hurts, but does not damage.Soskov said the weapon can be used for crowd and territory control during peacekeeping, or in counter-insurgency missions. He also said the weapon could be adopted by Russian police for combatting internal "mass disorder."The ray is currently undergoing testing at a military research institute outside Moscow.
Following in the footsteps of failure?
Although Russian military researchers trumpeted the heat ray as a "unique development," it appears to be very similar to the US Active Denial System.The US military has spent more than $120 million on the weapon, and says it has been tested on eleven thousand willing volunteers. Only last month, several US officials willingly submitted to the ray during an official unveiling, to stop swirling rumors about the system's potential danger.Yet despite being cleared for use in Afghanistan and Iraq since 2010, the Active Denial System does not appear to ever have actually been used.Critics of the ray say it is a cumbersome device – taking too much time to set up and direct towards its target.Many have also questioned whether extreme pain is a legitimate means of quelling protest, and wondered what happens when it is directed at a target that cannot move in time, for example a protester in a packed crowd. Supporters of the heat ray say it represents an improvement over the truncheons, tear gas and rubber bullets currently used by riot police around the world.Russia is expected to reveal more new-generation weapons, as Deputy Prime Minister Dmitry Rogozin presented a military strategy that looks "30-40 years into the future." The nature of these weapons is unclear, but in his pre-election article Vladimir Putin said future conflicts "will be won using weapons with new means of delivery, such as ray, geophysical, wave, genetic and psychotronic weapons".
You can share this story on social media: