Head of Georgia Orthodox Church visits Moscow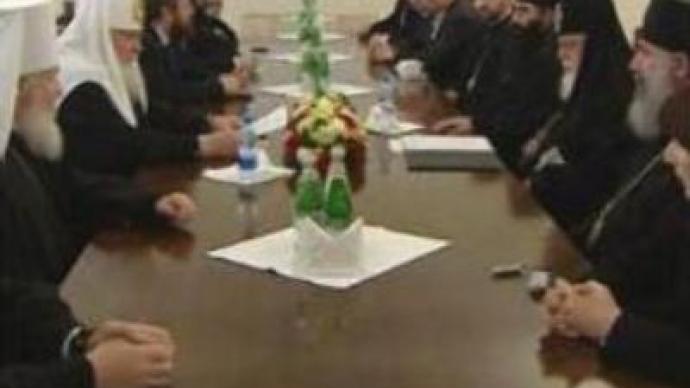 The Head of Georgia's Orthodox Church Iliyah II has arrived in Moscow. He was invited by the Russian Patriarch Alexy II to take part in the presentation of the 13th volume of the Orthodox Encyclopaedia.
"The Orthodox Encyclopaedia is a profound publication made by the Russian Orthodox Church in partnership with ecclesiastic and secular experts from all Orthodox Churches. The Russian Academy of Sciences and leading scientific and educational centres in Russia and abroad also participated in the project that started over 10 years ago,"
said Patriarch Alexy II. This visit is an exceptional one. The Georgian Patriarch had to request a direct charter flight from Tbilisi to Moscow and back, as there's been no transport or postal connection between the countries since October. Russia-Georgia relations have been tense to say the least. Iliya II has brought a large delegation with him in an attempt to find a solution. Many hope that the religious leaders will put political relations on a softer note.
"We need each other. Georgia needs a united and friendly Russia. I'm convinced Russia too needs Georgia in the same way. The tensions which have escalated recently are harmful and not natural,"
believes Patriarch Iliya II. Both countries share a rich history and have a common religious background. The very name Georgia derives from St George, the most venerated saint in Russia. For both Russian and Georgian patriarchs the event has become a symbol. The religious leaders hope that the church has set an example of unity that could easily have been lost. Despite all the ups-and-downs in the history of both Russia and Georgia, the spiritual connection between the two nations has always been strong. And this is not the first time that the church plays a role of mediator. Many hope the spiritual ties will mend the cracks in political and economic relations.
You can share this story on social media: