​Independent Scotland not guaranteed the same EU membership terms – British FM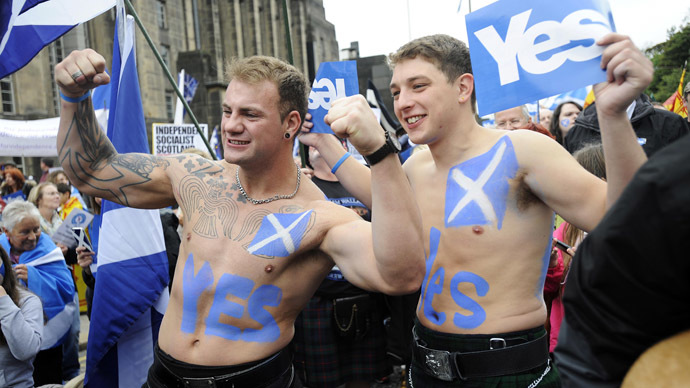 An independent Scotland will likely have to reapply to join the EU and not be offered the same terms as the UK, Britain's foreign minister said. Scotland, however, says it has a clear approach to the EU that is "overwhelmingly" in its best interests.
UK Foreign Minister William Hague issued a stark warning to advocates of Scottish independence on Friday, claiming it would be unable to negotiate the same lucrative terms as Britain if they apply to be part of the EU.
Scotland, which already has a certain level of legal and financial autonomy from London with various powers devolved to the Scottish parliament, has scheduled a referendum for full independence from the UK on September 18. The ruling Scottish National Party's First Minister, Alex Salmond, insists that Scotland will retain its EU membership if it splits with Britain and will merely have to renegotiate the terms.
For the UK government, Hague claims that Scotland will be in for a bumpy ride if it gets independence and will be obliged to accept the euro, something that the SNP government in Scotland has said it will not do. Westminster sent a clear message to Scotland in April last year, saying there was "no clear reason" why Britain should allow independent Scotland to use its currency.
"People should be in no doubt, if part of a member state leaves the EU it has to reapply for membership and that will be a process of uncertain length and unknown outcome in terms of the terms that are negotiated and probably great cost," Hague told BBC Radio Scotland's Good Morning Scotland program. "It means paying more to get less from the EU."
Hague also dismissed Salmond's confidence about Scotland's potential place in the EU as unrealistic. "Alex Salmond can say what he wants, but it would be a very difficult negotiation," Hague said. "Scots would be paying more to get less from the European Union. There is no doubt about that."
Hague added that Scotland would effectively have two referendums on whether to leave the EU – "and one of them is in September."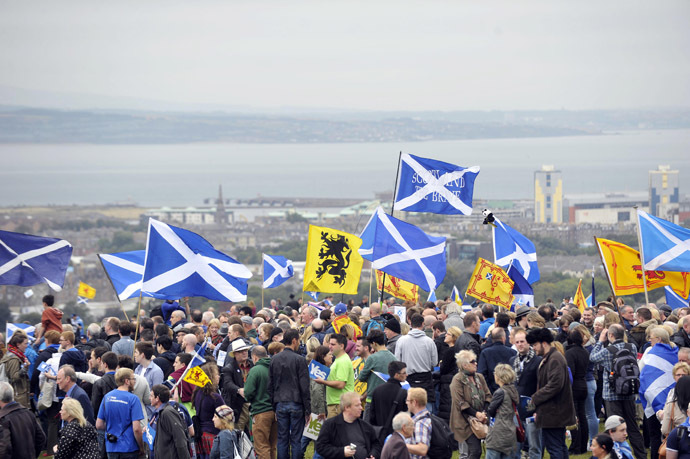 Britain's Foreign Secretary is currently in Glasgow together with the Chief Secretary to the Treasury to deliver a latest report in a series of papers analyzing Scottish independence. This latest round deals, in particular, with the EU and other international affairs. The report concludes that Scotland has benefited "from the UK's historic role and presence in world affairs," saying "the UK promotes and protects Scotland's interests globally."
The paper notes that in the event of independence, Scotland would lose the UK's global clout and the "significant benefits" that entails. Scotland would also be forced to renegotiate its membership with NATO, and no longer be able to influence global economic, finance and trade policy along with social, security and environmental issues via the G7, G8 and G20. Scotland would also be forced to provide its newly independent citizens consular representation in 144 countries worldwide.
The paper notes specifically how the UK has worked to protect and promote Scottish exports ranging from whisky to Scottish salmon, which, in 2012, the report estimates at £17.4 billion.
The report also warns that the long and arduous road to becoming an EU member would only result in a less economically solvent nation than the one which existed before.
"With no right to a share of the UK rebate from the EU, people in an independent Scottish state which eventually becomes an EU Member State would have to pay much more to the EU than they do currently as part of the UK," the paper argues.
Speaking at the launch of the Scotland analysis paper, Hague used Queen's Baton Relay as anecdotal evidence of how the UK's High commissions have "seized the opportunity to promote Scotland and all it has to offer."
"They arranged for haggis to be sampled in New Zealand and Scottish salmon in Singapore; they brought Scottish music to Ghana, Brunei and Kenya; and they told the world about great Scottish companies from bus manufacturers to Whisky distilleries," Hague said.
Reiterating the paper's key points, Hague argued that the clear advantages of Scotland remaining within the United Kingdom were "indisputable."
"A Scotland outside the UK would find itself less connected in an increasingly networked world, less able to advance its interests in an ever more competitive global economy and less able to influence decisions in a shifting international order."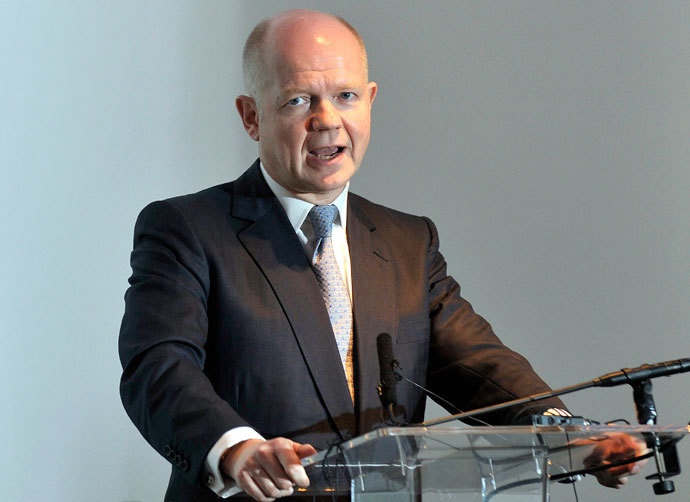 Scotland's deputy first minister, Nicola Sturgeon, responded to Hague's comments, claiming the only threat to Scotland's status as an EU member was the UK's planned referendum in 2017. Britain's Conservative-led government has pledged to hold a referendum on whether to stay in the EU if it wins the next general election in 2015.
"Any discussion of Europe and foreign affairs by your government must acknowledge the impact of the in/out referendum on membership of the European Union that your Government proposes," Sturgeon told Hague on the same program. "It seems to me that your paper – to have a shred of credibility – must make explicitly clear that very real risk to Scotland of remaining in the Union."
She went on to say that Scotland had a "common sense" approach to EU membership that is "overwhelmingly in Scotland's interests."
There is a lot riding on Scottish independence from the UK. The SNP has pledged to remove the UK's Trident nuclear weapons from Scotland if it receives its independence.
"Weapons of mass destruction have no place in an independent Scotland. We have to resolve that issue by negotiation with the United Kingdom in as quick a timescale as we possibly can do," Scottish Finance Minister John Swinney said on Good Morning Scotland on Friday.
Pat kane, a musician and campaigner for the Yes Scotland campaign, told RT that Scottish independence is not just a question of raw economics anyway.
"It's not just about being viable and it's not just about being the same as the Westminster government, who would want to ape those policies? It's about progress, and we look not just to mainland Europe, the EU would be welcoming with an Independent Scotland, but we're looking to Scandinavia, we're looking to those small countries that have the best indicators of wellbeing, economy and society," he said.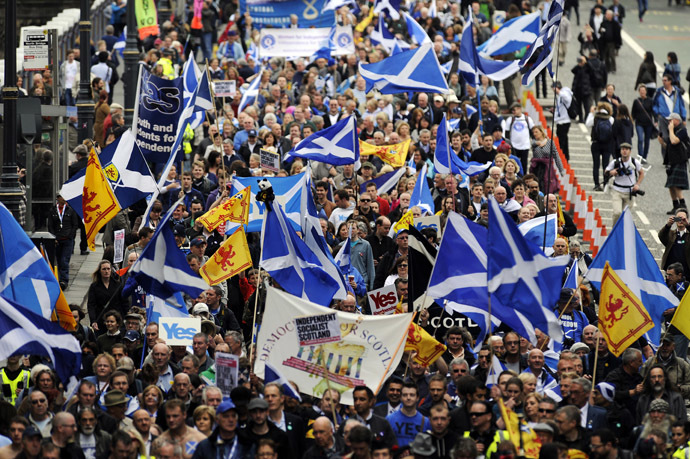 You can share this story on social media: