​US security deal with Afghan govt to be signed in timely manner, Hagel reassured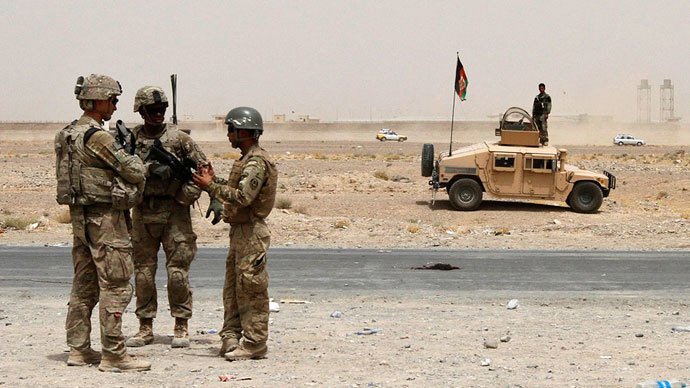 Afghanistan's defense minister has reassured the US that their security deal will be signed without delays. That's according to US defense secretary Chuck Hagel while making an unannounced visit to the country Saturday.
Defense minister Bismillah Khan Mohammadi, "assured me the Bilateral Security Agreement would be signed in a timely manner", Hagel said.
Hagel added that he didn't believe that trying to exert US pressure on President Hamid Karzai to sign the agreement would be helpful. However, Hagel said meeting with Karzai himself was not on his agenda as he came primarily to thank US soldiers for serving in Afghanistan.

Hagel's trip comes as US and Afghan officials are deadlocked over a security pact, which Afghan President Hamid Karzai has so far refused to sign. Karzai favors signing the deal after next year's presidential election.

Without a pact, all US troops stationed in the country would be required to leave next year, along with all foreign forces. At the moment some 46,000 US troops and 27,000 soldiers from other countries are based in the country.

"In some weeks, I expect we'll start to plan for something other than 'Resolute Support'," NATO commander in Afghanistan, General Joseph Dunford, told reporters. He was referring to NATO's current post-2014 plan.

Former drafts of the deal have indicated that troops could be allowed to remain in the country until 2024 for training and counterterrorism missions. Karzai has cautiously endorsed the agreement, and the Loya Jirga – Afghanistan's council of tribal elders – has stated that it should be signed by the end of this year. Roughly 12,000 troops would remain in the country under current plans.

Washington is also pushing for the deal to be signed soon, threatening a swift troop withdrawal unless Kabul agrees to guarantee legal immunity for US troops.

While Washington and NATO officials have stated that they would like a quick decision to be reached in order to coordinate post-2014 forces, Karzai has stated repeatedly that he won't sign an agreement that sanctions raids on Afghan homes.

Earlier reports suggested that Karzai rejected a provision granting the United States authority to unilaterally carry out military operations within the country, including the search of civilian homes.
However, the draft security deal published by Karzai's government on November 20 confronts a number of much-debated articles.

Under the pact, US forces would be allowed to enter Afghan homes in "exceptional" circumstances, and US forces remaining in Afghanistan after 2014 would be under US military jurisdiction, and not subject to Afghan law.

Without US aid in the country, Afghanistan would risk a potential Taliban resurgence and could lose out on billions of dollars of international aid.