Hackers sue Merkel & entire German govt over NSA spying
Europe's largest association of hackers has filed a criminal complaint against the German government for aiding foreign spying by NSA and GCHQ, and violating the right to citizens' privacy, basing their case on leaks by whistleblower Edward Snowden.
The Chaos Computer Club (CCC) in cooperation with the International League for Human Rights (ILMR) filed the complaint with the German Federal Prosecutor General's office on Monday.
"We accuse US, British and German secret agents, their supervisors, the German Minister of the Interior as well as the German Chancellor of illegal and prohibited covert intelligence activities, of aiding and abetting of those activities, of violation of the right to privacy and obstruction of justice in office by bearing and cooperating with the electronic surveillance of German citizens by NSA and GCHQ, " the group said in a statement on its website.
The CCC also called for former NSA contractor Edward Snowden to be invited to give testimony as a witness, and that he should "be provided safe passage to Germany" and "protection against extradition to the US."

The hackers added that after Snowden's revelations about US global spying activities they "now have certainty" that German and other foreign intelligence services have broken German criminal law.

The criminal complaint is meant to spark a "long-overdue investigation by federal prosecutors" into alleged law-breaking by government officials and foreign intelligence agencies.

"Every citizen is affected by the massive surveillance of their private communications. Our laws protect us and threaten those responsible for such surveillance with punishment. Therefore an investigation by the Federal Prosecutor General is necessary and mandatory by law – and a matter of course. It is unfortunate that those responsible and the circumstances of their crimes have not been investigated," CCC member and attorney Julius Mittenzwei said on the group's website.
The group accused government offices of being unwilling to help investigate the crimes, adding that CCC and the ILHR wanted "to bring to light more information about the illegal activities of German and foreign secret services" and bring the offenders "to account."
The Federal Prosecutor's Office is to process the complaint and consider whether to open a criminal investigation.
Steffen Seibert, the spokesman for Chancellor Merkel, declined to give a detailed comment, saying only that "everyone in Germany can file a criminal complaint," AP reported.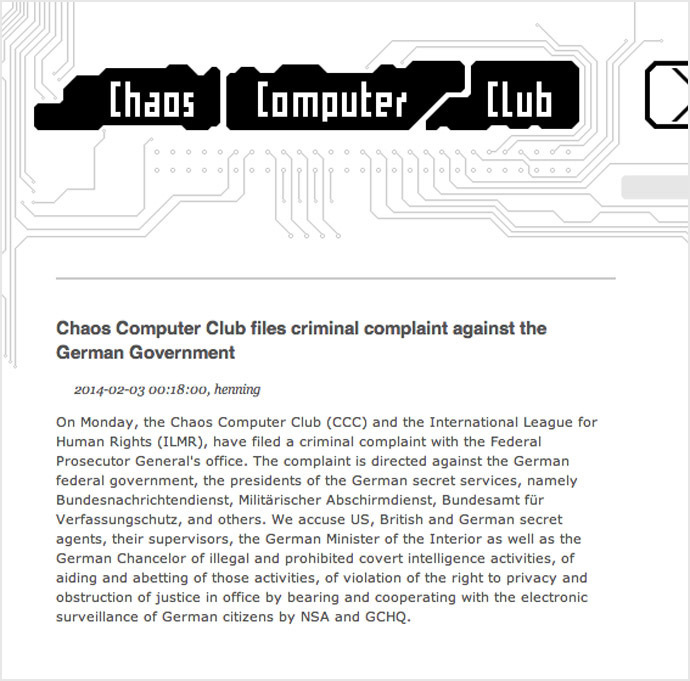 Julius Mittenzwei, one of the activists from CCC behind the complaint, told RT that there is legal grounds to stop the spying on citizens in Germany.
"Under German law all investigations and all measures under criminal law or any other law are against the citizens have to be written into the law. It is the task for the prosecutors to find the correct argumentation if it is legal or not. And if it is not legal they have to at least stop it and they have to help us to keep our privacy," Mittenzwei said.
The activist believes that Germany has not established that the spying helps in finding terrorists and extremists, and instead is being used as another source of power.
"The person who tries to read all the communications of all citizens and tries to make a digital copy of everybody's lives - that is just a new way of power, which is fundamentally destroying everybody's privacy and probably will also be a big danger for the democracy," he said.
The documents leaked by Snowden have revealed that the NSA intercepted millions of phone calls, text messages, emails and internet chat comments by German citizens without any legal authorization. In October, a new report based on Snowden's documents revealed that the US intelligence agency also tapped Chancellor Angela Merkel's personal phone.
The revelations put transatlantic ties "to the test," Merkel said last November, demanding that the US give an explanation. Washington, however, claimed that the surveillance was carried out to prevent threats to national security.
In January, US President Barack Obama said his government would "continue to gather information about the intentions" of foreign governments. However, he also promised the NSA "will not monitor the communications of heads of state" in allied countries, unless there were compelling national security reasons to do so.
Since August, Berlin and Washington have been negotiating a no-spying bilateral agreement, though the governments have not yet been able to reach a deal.
You can share this story on social media: