'Lay down your arms!' Anonymous attacks US tear-gas maker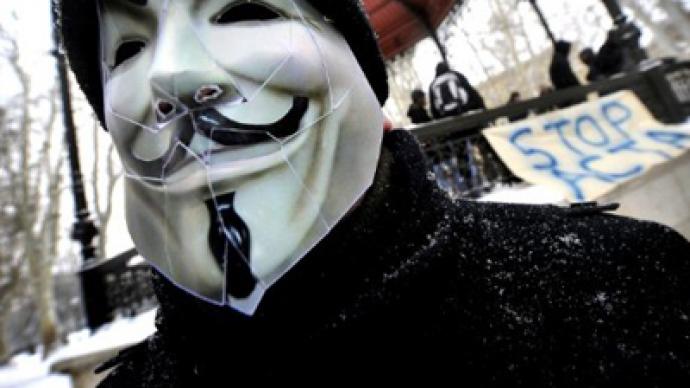 Hackers have sent a sweet Valentine to an American weapons manufacturer, knocking out its website. The group says it was an act of retaliation for the company's arming of security forces against pro-democracy protests in Egypt, Bahrain, and the US.
The one-year anniversary of the Arab Spring uprising in Bahrain seems to have ignited pro-protest feelings in the hackers' hearts. The Anonymous-aligned activists have accused Combined Systems, a tear-gas maker located in the US, of selling "mad chemical weapons to military and cop shops around the world." Putting out the company's website, the hackers slammed the producer over alleged war profiteering on demonstrations in Egypt and elsewhere.  "You shot and gassed protesters, running them off public parks in the US. Several dozen died because of your tear gas used in Egypt. Did you think we forgot? Why did you not expect us?" read the statement.It is unclear if the hackers accuse Combined Systems of selling tear gas to Mubarak's government or the country's current ruling Supreme Council of the Armed Forces. However, they accuse the company of working for governments and armies, and as they see it, that is a good enough reason for an attack."Combined Systems, lay down your arms: you just lost the game. In the past we have marched on your offices in Jamestown, Pennsylvania: now it is time to march on your websites." The website for Combined Systems Inc. was down on Tuesday. Messages to the site's administrative staff were not immediately returned ahead of business hours. In addition to defacing the website, the hackers say they have stolen and published personal information belonging to clients and employees of the company.The latest attack has been credited by the shady collective as part of both the HackVDay Valentine's Day rampage and protests commemorating the Bahrain uprising's first anniversary.Bahraini activists have called for demonstrations on Sunday, Monday and Tuesday to commemorate the Shiite-dominated protest that erupted last year. At least 40 people have been killed during months of unprecedented political unrest in Bahrain, inspired by the Arab Spring uprisings.
You can share this story on social media: