Greenland caves in to drilling, shrugging off oil spill dangers
Greenland has decided to open up one of the most fragile Arctic environments to oil drilling, brushing aside environmental concerns. BP, the company responsible for the Deepwater Horizon oil spill, has won permission to drill in eastern Greenland.
The Anglo-American energy giant, held responsible for turning the Gulf of Mexico into an ecological catastrophe in 2010, has been given exploration rights in eastern Greenland – an area of 2,630 square kilometers and the world's biggest island.
"Northeast Greenland is a long-term play, and we expect several years of careful planning before exploring this challenging and interesting region," BP said in a statement. "We look forward to working with the BMP [Greenland's Bureau of Mines and Petroleum] and partners to develop a 2D seismic work programme."
The Greenland government's decision is a complete U-turn from what it said only nine months ago, when a moratorium on any further drilling was imposed due to environmental concerns. "The latest move is understood to be tightly connected to Greenland's striving for independence from Denmark," RT's Aleksey Yaroshevsky said.
Although Greenland is still a part of the Kingdom of Denmark, it has enjoyed autonomy since 1979; in 1985 the island became the only territory to leave the EU. Gaining full independence has long been a challenge for the 57,000 people of Greenland, who mostly rely on fishing and tourism to make a living. Oil is seen by many as a long-awaited chance to become richer and more independent. Along with the US's Alaska, Russia, Canada and Norway, Greenland has promising Arctic reserves, with an estimated 25 percent of the world's remaining oil and gas reserves lying under and around the Arctic Ocean.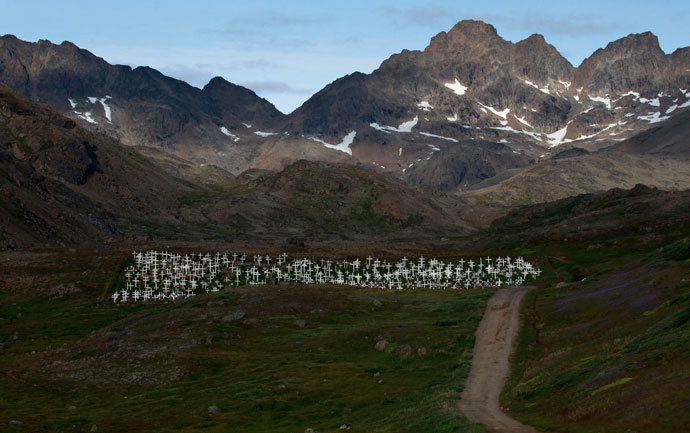 "We claim our right to economic development," Greenland's Prime Minister Kuupik Kleist told the Independent in 2011. "And we claim our right to be independent from former colonial powers."
Meanwhile, in a bid to raise public awareness about the dangers of drilling, Greenpeace has repeatedly said that the people in Greenland have been kept in the dark about the enormous risks taken by the politicians and companies in the quest for Arctic oil.
Under pressure from environmentalists, the new government in Greenland put a moratorium in March on the granting of fresh offshore oil and gas drilling licenses in the country's Arctic waters, amid growing fears that unique icy waters around Greenland could be irreparably damaged by oil spills.
"It's very important that the Greenland government and population are aware that the risks they are taking would not only have environmental consequences, but if it still happens will have massive consequences," Greenpeace Nordic Arctic campaigner Jon Burgwald told RT.
While almost all of west Greenland is already open for oil drilling, "the threat of a catastrophic oil spill in areas like Baffin Bay remains," Greenpeace warned.
Although environmental experts are at a loss how BP, a firm with such a checkered history, has been allowed to work in such a fragile region, the country's Minister for Industry and Mineral Resources has been pleased that the government managed "to attract the largest oil companies in the world [BP and Shell] to explore for oil and gas in our area."
"It increases our belief that they are able to find oil and gas in commercial quantities," Jens-Erik Kirkegaard said, pledging that safety would be not be ignored.
"All exploration for oil and gas is conducted by following the highest achievable standards when it comes to protecting the marine environment and living resources in the sea," he stated.
The 2010 explosion of the Deepwater Horizon drilling rig and rupture of BP's Macondo oil well killed 11 people and triggered the largest US offshore oil spill. Since the end of 2012, BP has not been awarded any new licenses by the US government, but has won stakes in drilling rights in the Barents Sea off Norway.
In September one of BP's main competitors, the French company Total, warned against the dangers of drilling in the Arctic.
"Oil on Greenland would be a disaster," Total CEO Christophe de Margerie told the FT. "A leak would do too much damage to the image of the company."
You can share this story on social media: