8 green-on-blue killings sweep Afghanistan over weekend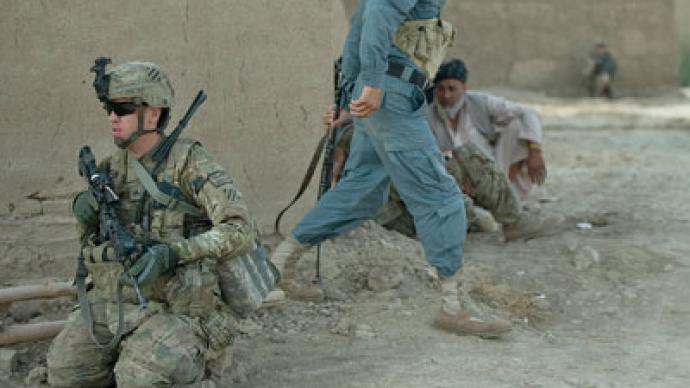 Eight coalition soldiers were killed in three separate attacks across Afghanistan since Friday, as the trend of Afghan soldiers firing on coalition troops worsens for NATO.
Afghanistan has witnessed a dramatic uptick in 2012 in green-on-blue killings – 'green' the NATO code for local Afghan soldiers, 'blue' for NATO soldiers – prompting increasing concern among NATO and the ISAF (International Security Assistance Force) ahead of their scheduled 2014 pullout.Sunday's attacks, in which four coalition soldiers were killed, pushed the total number of coalition troops killed in such incidents this year to a record 51, up from 35 last year – a major spike in what was deemed a 'minor problem' a few years ago.In an attack on Friday evening, two UK soldiers with a NATO-led deployment in southern Afghanistan were killed by a man wearing the uniform of the Afghan police. Three others were wounded in the attack, after which a soldier returned fire and killed the assailant.On Saturday, another individual believed to be a member of the Afghan police killed two more British NATO servicemembers in the country's southern Helmand province. That attack also ended in the gunman being killed by return fire.The deadliest of the weekend's green-on-blue assaults came on Sunday in Zabul Province, with four coalition servicemembers killed. Reports claimed that there were multiple gunmen, and that the attack was "suspected to involve members of the Afghan police" and was "under investigation." Later in the day, the Pentagon confirmed all the four people killed in the insider attack were Americans.
'We take this very seriously'
With the 2014 pullout deadline fast approaching, commanders are weighing an array of tactics to solve the problem. New vetting procedures have been instituted. Amidst what may be a new atmosphere of distrust between NATO trainers and Afghan Police trainees, "hundreds" of Afghan trainees were dismissed from duty over document irregularities, the New York Times reported. 'Sensitivity' and cultural training has also been increased, and a 28-page booklet titled 'A Brochure for Comprehending the Cultures of the Coalition Forces' has been distributed among Afghan troops."Coalition troops may ask about the women in your family. Do not take offense, they just want friendly relations with you. In return, teach them that Afghans do not discuss their families' women with others," and "As you know, Afghans in the presence of others do not blow their noses. This practice is very common in the culture of coalition countries. If a member of the coalition forces blows his nose in your presence, please don't consider this an offense or an insult," the brochure reads.The sheer number of green-on-blue incidents has led to some to speculate that the problem is more than just a cultural issue; some suspect that these attacks are the direct result of NATO's near-complete lack of on-the-ground intelligence in Afghanistan.In January 2010, Major General Michael Flynn published a report in cooperation with a Washington thinktank, which argued that "Eight years into the war in Afghanistan, the US intelligence community is only marginally relevant to the overall strategy," and that "the vast intelligence apparatus is unable to answer fundamental questions about the environment in which US and allied forces operate and the people they seek to persuade."Officers deployed in Afghanistan are "ignorant of local economics and landowners, hazy about who the powerbrokers are and how they might be influenced," Flynn said.Journalist and author Jere van Dyk echoed Flynn's concerns in a recent RT interview: "How many Pashtun speakers are there? When you talk to, for example, interpreters, you find out that there is a huge underground network of interpreters, all of whom have to pay bribes before they can work with the American soldiers. Who controls these interpreters? I'm not sure they are completely free at all. The Taliban could easily infiltrate this [network], this was my experience."As efforts to stem the tide of green-on-blue killings increase, and nerves continue to fray in the run-up to NATO's 2014 pullout, there are no easy answers for the NATO-led coalition. In a statement released on September 6, ISAF commander Gen. John R. Allen said, "I can assure our friends and foes alike that I take this issue very seriously and my entire command is absolutely driven to do everything we can to reduce this threat. … It is a threat to both green and blue that requires a green and blue solution."
You can share this story on social media: