Greeks react to bailout by dressing up Merkel as Nazi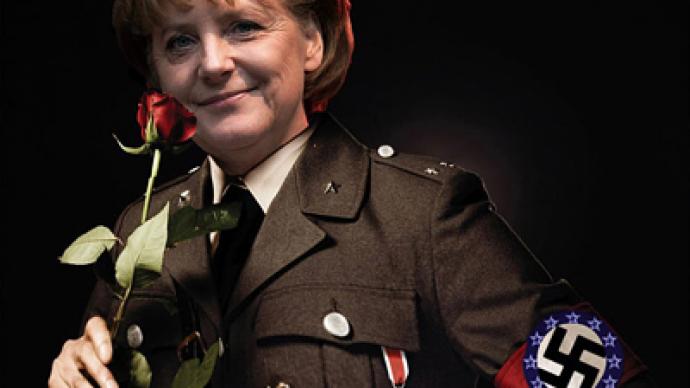 Harsh austerity measures imposed on the Greek people are making them look to the past for unfavorable comparisons. Overnight, posters featuring Chancellor Angela Merkel dressed as a Nazi officer have appeared all over the capital, Athens.
Berlin's interference in the Greek economy has caused people to make comparisons with Hitler's occupation and destruction of the country 65 years ago. For many, Germany's involvement in their affairs is pure meddling, while some have actually called on Germany to bail out Greece "on the grounds it owes Athens money for war atrocities in the past."And it's not just the ordinary citizens who feel this way. Even the Greek Prime Minister, while claiming that the move has helped his country avoid "a national mortal danger," mentioned the national gold "taken" by Nazi Germany during the occupation and never "returned." The deal, which will see half of Greece's national debt written off, has infuriated the country's people. That's despite many economists calling it a last-ditch effort to stave off a Greek default on its sovereign debt – which is tantamount to bankruptcy. But opposition parties claim the $130 billion deal will put the country through "nine more years of collapse and poverty". Greek government officials who agreed to the belt-tightening moves have been portrayed in cartoons giving the Nazi "Sieg Heil" salute. And Reuters news agency reports that German tourists flocking to ancient heritage sites are not receiving a warm welcome either. And despite the fact that protests in the country have cooled down, for many this is just the calm before the storm.