Greek Cypriots demolish wall separating Turkish side in Nicosia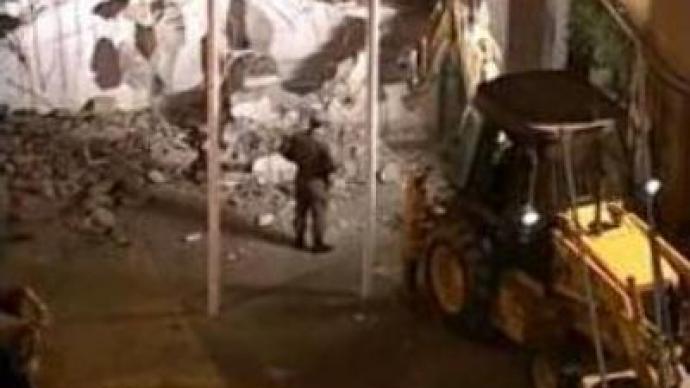 Greek Cypriots have begun dismantling a wall that divides the capital Nicosia. Heavy machinery has begun demolishing the wall that divides the Greek side with the unrecognised Turkish Republic of Northern Cyprus.
Greek Cypriots began at night by cordoning off Ledra Street, the main street in the capital Nicosia, through which the barrier with the Turkish side, passes. Using heavy machinery, they started the demolition process of the Greek side of the barrier.It was erected after a ceasefire was brokered between the Greeks and Turks following a Turkish invasion more than thirty years ago. Although five crossing points exist across the UN buffer zone, or the Green Line, not one of them passes through the capital's centre.The President of the Republic says this is an attempt to create a passage.
"So, now we will see whether Turkey's troops will withdraw so that the passage will be opened or not. Of course if the troops are not withdrawn, and the buildings on either side of the street are not strengthened, there cannot be passage,"
said Tassos Papadopoulos, Cypriot President.The wall became the subject of dispute earlier on in the year, when Turkish Cypriots took apart a bridge that ran over Ledra Street.The Greek side said at time that the bridge destroyed the point of a UN buffer zone.But now they say that instead of UN forces occupying the Green line, it's monitored by Turkish troops.Javier Solana, EU Foreign Policy Chief, says:
"I cannot be very precise at this point in time. I have been in touch with both sides, but I don't want to make any comment at this point in time, maybe in the coming hours we'll be able to do it. I hope that nothing dramatic will take place."
For their part, the Greek Cypriots have promised not to allow civilians to pass through the newly constructed crossing point.Observers, however, hope that this will be the first step to creating a passage between the North and South in the near future.
You can share this story on social media: