Greece strikes back as Europe seeks a New Hope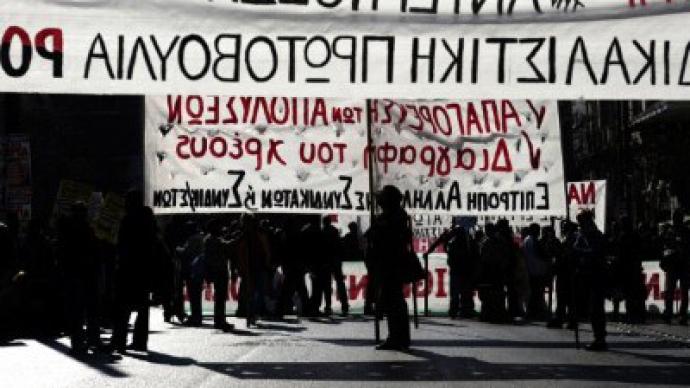 The Greek government is facing its first major challenge with half of the country's workforce on strike to protest against its austerity measures. It comes a week ahead of a crucial EU summit that is to decide on a new strategy in containing the crisis.
Unions representing around 2.5 Greeks organized a 24-hour strike on Thursday to protest against tax hikes and spending cuts adopted by the new caretaker government in order to receive the new EU bailout tranche. This is the country's seventh general strike this year.   Not a good omen just a week before a crucial EU summit next week, during which a new master plan to tackle the Eurozone debt crisis should be presented. European leaders have been saying next week's decision will be vital not only for the existence of the Eurozone, but also of the entire European Union. Brussels has been arguing in favor of strengthening integration and bolstering the EU's control over the budgets of its member states. "The economic and monetary union will either have to be completed through much deeper integration or we will have to accept a gradual disintegration of over half a century of European integration" EU Euro Commissioner Olli Rehn said on Wednesday.French foreign minister Alain Juppe also said on Wednesday that Europe was going through an existential crisis and warned that the breakdown of the Eurozone could lead to "the explosion of the European Union itself".  Johan van Overtveldt, the editor in chief of Trends Magazine, also believes the only way forward with the crisis is to grant Brussels more political authority over the national budgets of the member countries: "It's very basic; you can't have a functioning monetary union without a political union. That's a choice you have to make and you can't have the one without the other. That has been very much proven now in the last 2 years of crisis. What we do lack is political authority…But there's no more choice: either you do that or you let the Euro and the monetary union go down the drain". He blamed the ongoing crisis on Europe's inability to make its members follow the adopted budgetary regulations: "We had, when the Euro started, the Stability and Growth Pact, with very specific rules on how large budget deficits could be or how high government debt could go, but at the end of the day, Europe was unable to really impose its will and its rules on the member countries. So we're doing more or the less the same discussion now, but the question is: will we make Brussels really an authority that has automatic powers to intervene".