Greek civil servants stage 24-hour general strike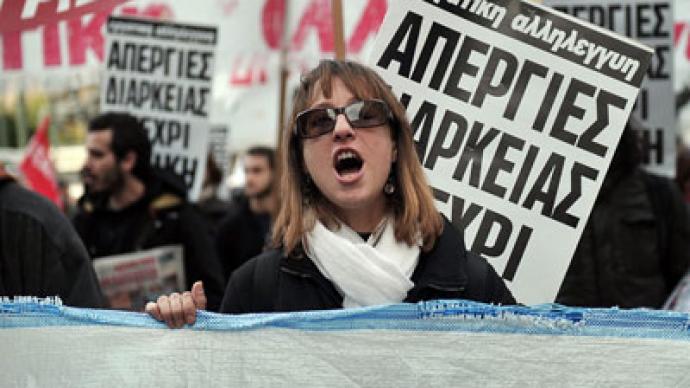 Greek public sector workers have launched a 24-hour strike to protest fresh cuts and lay-offs. Transport systems have been disrupted across the country, while many schools and hospitals were shut.
Wednesday's action also grounded flights for six hours, left trains operating on emergency schedules and halted the Athens metro during morning rush hour.The walk-out is the latest in the string of anti-austerity rallies since September.Striking teachers, doctors and other public sector workers marched in central Athens in a rally organized by the civil servants union ADEDY, which represents around 500,000 public sector workers, or 25 per cent of Greek workforce.The protesters chanted anti-government slogans, and one group of marchers held up a mock clothes line with the words "Take These Too" written across 16 pairs of underpants, AP reported.The new measures include the suspension of around 27,000 public servants in 2012-2013. They are to be put on reduced pay for a year pending transfer or dismissal.The new cuts, effective January 1, will result from merging different categories of public servants, reducing the number of pay grades and depriving many workers of benefits which they have been accustomed to in the public sector. Greece received its first bailout two and a half years ago, but concerns remain the country's massive debt burden could yet force it out of Europe's monetary union. In 2013 Greece will confront its sixth successive year of recession, with the country's debt to GDP ratio expected to hit 190 percent and unemployment at more than 25 percent. A total of €240 billion euros in financial aid from the EU and the IMF has been allocated to Greece in the form of bailout loans.
You can share this story on social media: