Greek Parliament approves fresh cutbacks worth over €3 billion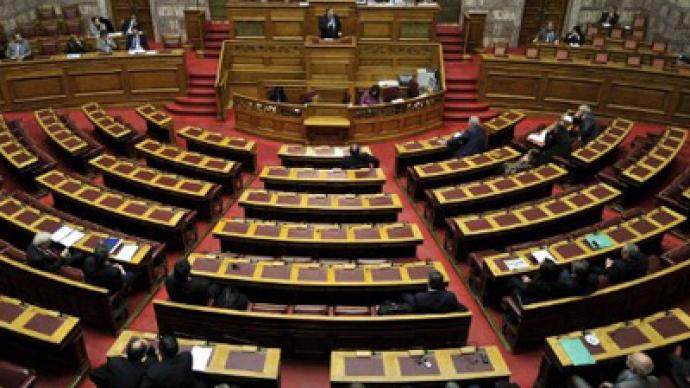 Greek Parliament has been charged with pushing through yet more austerity legislation in order for the country to receive the cash from its second bailout package, worth some €130 billion.
Budget cuts approved overnight include lowering the minimum wage and cutting pensions and reductions in health and education spending as well as forced mergers of state-run organizations. For instance, salaries of local managers and mayors, deputy mayors and some others will be reduced by 10 per cent. The number of scientific research institutions operating in Greece will be lowered from 56 to 31.
The private sector's minimum wage is to be reduced by 22 per cent, which will result in cutting off other salaries and unemployment benefits. Pensions exceeding €1300/month will also be lowered.
All these moves are among the priorities set by Parliament on February 13 as it demanded to secure a second package of international rescue loans. The country has taken on an obligation to adopt a broad program of austerity a reforms before it can receive funds from its new €130 billion ($174 billion) rescue package from the International Monetary Fund and other eurozone countries. Cuts amounting to €3.2 billion are aimed at bringing the 2012 budget back in line with targets.
The day before Parliament voted in favor of cuts, Standard & Poor's ratings agency downgraded Greece's credit rating to "selective default." However, according to the country's Finance Ministry, this decision "will not have consequences for Greece's banking system." They claim the move by S&P had been announced before, and so the effects it would have had been anticipated and taken into account with the corresponding decisions by the European Council and the Eurogroup. The downgrade had been predicted because of the fact that a bond swap with private creditors would constitute a selective default. But after the swap is carried out next month, the agencies are expected to upgrade Greece.
You can share this story on social media: