"Corrupt politicians behind Greece's financial crisis, not banking system" – journalist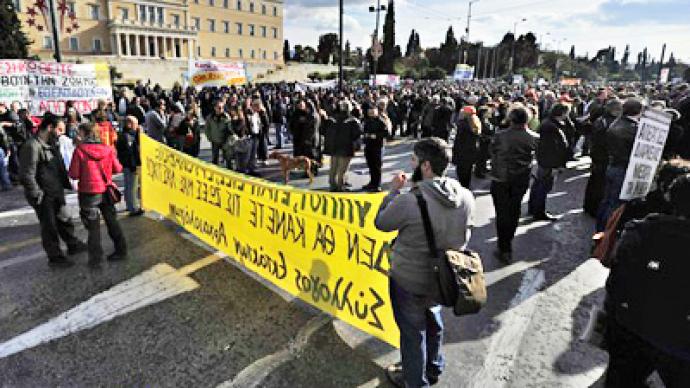 Greece has been gripped by a new wave of protests over the government's sweeping austerity measures, aimed at reducing debt and fulfilling its bailout obligations.
A general strike has been called after the country's socialist government passed a highly controversial bill which slashes the salaries of public servants. Helen Skopis, a journalist for Athens International Radio, said that Greece is "the only country up to now, at least in the Eurozone, whose financial crisis is not because of the collapse of the banking system, but because of the corrupt political system.""People are demanding that the burden of this financial crisis not be put on their shoulders. They are on the streets protesting against austerity measures and structural reforms that passed in Parliament yesterday – 156 votes were in favor, 130 were against. One government deputy was expelled from the government party because he voted against the measures," the journalist said.She added that many deputies describe their feelings as if "it was compromising democracy.""Many deputies have reacted to what is going on with this express parliament procedure. They said yesterday they lashed [out] at the finance minister George saying that they feel as if they are being forced to vote with a gun to their head on measures that they know very little about," Helen Skopis said.Meanwhile, Danish MEP and a member of Europe of Freedom and Democracy Group Morten Messerschmidt said that a bailout is just stalling, and thereby creating an even bigger problem, because the debt will just grow and grow, and the Eurozone is reacting very desperately."We need to be frank. We need to say that if Europe should have a common currency, we need to have everything governed by Brussels. The Europeans don't want that. Therefore a common currency is not realistic," he said.
Spain is also facing tough prospects after Moody's rating agency threatened to downgrade its credit rating. The move has sent jitters through one of the biggest economies in Europe, which is already fighting speculation on world markets that it may be engulfed by a European debt crisis. To address the rising fears, the Spanish government imposed new austerity measures last week, which include cutbacks in unemployment benefits. The decision, which follows $15 billion worth of cutbacks introduced in May this year, prompted wide-scale protests among air-traffic controllers and the closure of eight airports. Another massive protest is expected to take place on Saturday.