Google may go retail by end of the year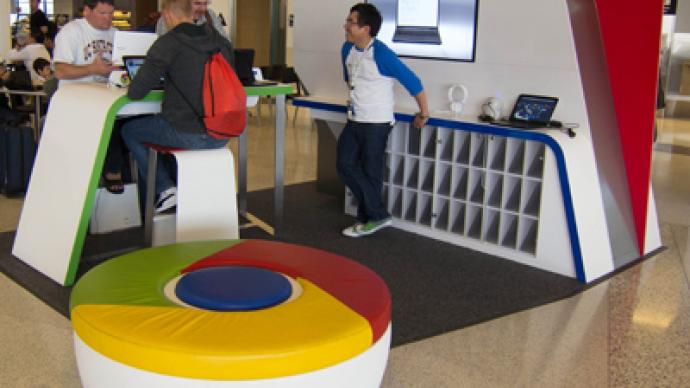 On a wave of fresh rumors about Apple's future products, the news has emerged about Google's plans to enter the retail business. By next holiday season Google is rumored to open a chain of stores to showcase its growing collection of products.
Rumors lit the tech blogs and forums ablaze Friday when an "extremely reliable source" revealed Google's plans to have retail stores by the end of this year to 9to5Google's Seth Weintraub."I wouldn't put it past Google to do this," said Ben Bajarin, principal analyst with Silicon Valley-based Creative Strategies.The stores will likely feature Google's latest phone, the Nexus 4, Chromebooks, Google powered Samsung and Android smartphones, and other Google gadgets that are currently sold from retailers, and not directly from Google itself. Currently, many wireless carriers do not sell Google's Nexus 4. And since it is priced at $500, it is a large enough sum of money that customers may want to 'test drive' the device before the purchase. Google already has 'pop-up' kiosks in BestBuy stores, where Google employees can sell the Nexus phone and answer product questions. The stores will also be a showcase for Sergey Brin's latest, Google Glass, motion-censored reality glasses, which are set to hit the market sometime in 2014, starting at $1,500. Customers will certainly want to play with these before laying down the dough.
Google will likely borrow heavily from Apple's successful in-store retail model, the highest grossing US retailer.Apple opened its first retail store on May 15, 2001 outside of Washington D.C. Bright, minimalistic, and simple, the store offered a space for customers to test-drive products. One of the big elements of Apple's retail success is its Genius Bar. This idea was not revolutionary by any standard – Circuit City, Best Buy, Radioshack, and dozens of others electronic outfitters offered in-store customer care when Apple opened its doors.  The Apple Genius bar is straight forward. The customer brings in the faulty product, and the 'Genius' fixes it on site, or places an order for a replacement from the depot. But so much of the Google brand is digital so where will Google draw the line on its customer care? Will Gmail customers be able to set up a Genius appointment to find out how to activate an out-of-office reply or how to recover lost files on their cloud? Even if the Google store chain does not reach sales of Apple proportion, it will at the very least function as a showcase that creates customer awareness around the product. "Google does not have as many products as Apple, but it has enough to justify a physical retail presence," said Greg Sterling, a senior analyst with Opus Research.Until recently, the Google Brand has been digital- engines, ads and clouds. Two thirds of search engine requests are keyed in on Google, and in December 2012 it served as the platform for 114.7 billion searches, according to the latest comScore engine rankings for January 2013. And 'going retail' is of course a risky maneuver, even for an industry giant like Google.
You can share this story on social media: