Google boss' trip to North Korea 'goes against atmosphere of condemnation'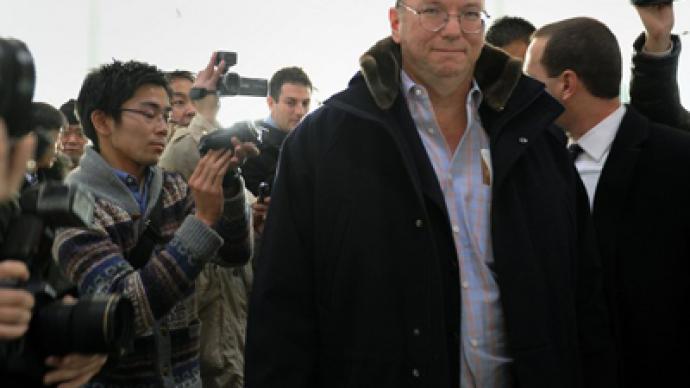 Google's chairman Eric Schmidt has joined New Mexico ex-governor Bill Richardson on his "private humanitarian mission" to North Korea. Experts have speculated why the IT goliath is on the trip, as US officials slam the timing of the visit.
It is not the first time that Richardson, who used to be US ambassador to the UN, has traveled to North Korea seeking the release of detained US citizens. In an exclusive interview with AP, Richardson said his delegation is pressing Pyongyang to put a moratorium on missile launches and nuclear tests and to allow freer access to cell phones and the internet for its citizens. They also are asking for fair and humane treatment for an American citizen detained in North Korea.The visit of Google's Schmidt, however, has raised eyebrows around the world, spurring heated debate on his trip's purpose. Schmidt has flown to Pyongyang with Google's think-tank director, Jared Cohen, having made no comments on their intentions.It has also drawn criticism from Washington, with a State Department spokesperson calling the timing of the visit "not helpful."
The US reaction comes of no surprise, as the visit of two well-known Americans sends "mixed signals" to the recently condemned North Korean government and makes announcement of sanctions "ridiculous," Rudiger Frank of the University of Vienna told RT.US officials are looking to build an "atmosphere of condemnation" around North Korea, which already is "one of the most heavily sanctioned countries in the world," John Feffer of the Institute for Policy Studies in Washington DC said."For a trip like this to go forward is to basically go against this overall atmosphere of condemnation," Feffer told RT.But it is not realistic to think that the chairman of Google has simply come to North Korea to break national policy or speak for the freedom of information, Frank argued."We should consider that Google is not only the Internet search engine business, they have many other fields as well," he added, reminding that North Korea has actually been producing mobile phone applications and programming games."North Korea itself is a country with a very well developed IT sector, so perhaps Mr. Schmidt wants to explore other potential business fields for Google within North Korea," Frank speculated, saying that North Korean programmers could perhaps contribute to the Google-owned Android platform.Not only does North Korea boast to have "top notch" IT experts, there're a number of practical reasons why the foreign companies might have an interest in it, Feffer asserted.With its highly educated workforce, the country has no trade unions to cause strikes and can potentially offer an "enormous amount of mineral wealth," he explained. According to Feffer, the country's key strategic location is also important, "North Korea is in the middle of one of the top economic zones in the world, so if you're going to open up a business in North-East Asia, why not think of North Korea?"But North Korean leaders have a big problem, he added, in a sense that no Western investors are actually willing to go to North Korea.North Korea's elite, however, are interested in information technology, so a visit from one of the top corporations in the world is a great incentive for them, Feffer said."They see themselves as taking information technology as a vehicle into the 21st century. So having someone like Google's Eric Schmidt come for a visit is extraordinary important for the IT success of North Korea," he argued.That said, the experts remained skeptical on any actual outcome of Schmidt's current trip."At certain level we've seen a crack open in terms of information access, but I don't think we're going to see any major deal come out of this [or] Google suddenly open up an office in Pyongyang," Feffer told RT.
You can share this story on social media: