​Google Maps marks Crimea as Russia…but only in Russia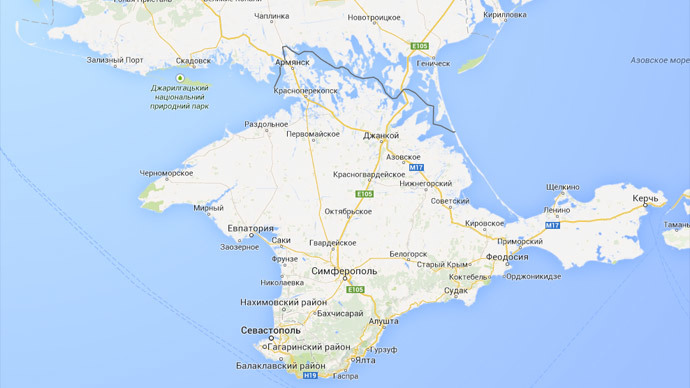 Crimea is now part of Russia, according to the Russian version of Google's map service. The change was made to reflect in the latest update and did not affect how the online giant presents the peninsula to the rest of the world.
"The Google Maps team is doing its best to objectively mark disputed regions and landmarks. In relevant cases the borders of disputed areas are marked in a special way. In countries where we have a localized version of our service, we follow local laws on representing borders and use of landmark names," Svetlana Anurova of Google Russia told ITAR-TASS.
Interestingly, the change has so far only affected the type of line used to show the border, but not street addresses in Crimea. For instance, Google Maps Russia marks the Crimean capital as "Simferopol, Crimea, Ukraine."
Google's approach to Crimea is similar to how it deals with many territorial disputes around the world, showing different names and borderlines to users in different countries.
This includes other disputes involving Russia, particularly the status of South Ossetia and Abkhazia, which are recognized as sovereign states by Moscow and some other nations, but are considered parts of Georgia by the West.
The Crimean change is similar to how Yandex, a Russian counterpart of Google, which has a map service of its own, dealt with the Crimean situation.
It marked the peninsula as Russian for Russian users and Ukrainian for Ukrainian users. Localized versions of Yandex Maps show Crimea as either Russian or Ukrainian territory, depending on whether a respective government recognized Crimean transition into Russia.
The international version sides with Moscow's point of view.
The Russian Federation has been treating Crimea as a constituent part since March 21, when all paperwork needed for Crimean accession was completed.
It followed a referendum in Crimea which showed overwhelming support from the local population for breaking from Ukraine and seeking a place within Russia. The transition remains disputed by many countries.
You can share this story on social media: