'Google News Tax' battle: German lawmakers back watered-down Internet copyright law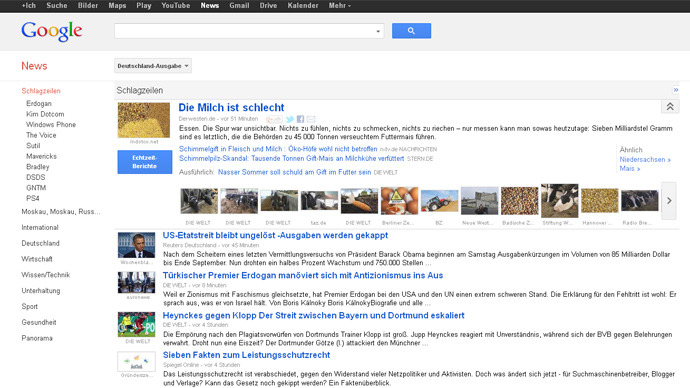 Google is relieved after the Bundestag passed a softer-than-feared copyright law that won't automatically force it to pay for links to news articles. But the law's vague wording leaves the search engine open to new financial claims from German publishers.
Google has fended off a German publishers' campaign that would force it to pay for linking to news articles, after a watered-down version of a controversial law was passed in parliament – but may face further legal battles.
The search engine will still be allowed to link to "single words or very small text excerpts" from websites of news publishers. But now arguments may break out over what constitutes an 'excerpt' – a term not strictly defined in the legislation.
The ancillary copyright law was passed by 293 to 243 votes in the the lower chamber of parliament, after backing from the right-wing ruling coalition.
After a months-long public campaign against the legislation, Google expressed reserved relief at the final formulation of the law.
"As a result of today's vote, ancillary copyright in its most damaging form has been stopped. However, the best outcome for Germany would be no new legislation because it threatens innovation, particularly for startups," said Ralf Bremer, the search engine's spokesman in the country.
Nonetheless, the publishers association BDVZ put on a brave face, saying the law will "enable portals to set the conditions under which their content is used by search engines and aggregates for commercial purposes."
German publishers argued that aggregation sites, such as Google News, which collects articles from various sources and sorts them by headline, have replaced the front pages of newspapers, and allowed web engines to use the content to make their money off advertising.
But Google, from links in which more than six billion articles are accessed every month around the world, said it was doing just the opposite.
The search engine claimed that its aggregation service is a win-win situation for the customer, who gets easier access to information, the news sources themselves, which can attract a bigger audience, and the company itself, which earns money from the advertising on its own linking page.
Once an original, harsher draft of the law was aired, Google started a petition arguing that the legislation was impeding freedom of information.
The opponents of the law, which included the opposition parties, and the majority of bloggers, also argued that it would make it harder for less established news media to gain viewer access, and noted that if individual companies wanted to opt out of Google's search engines, they could do so, without forcing others who do not desire it.
In response to the outcry, German lawmakers backed away from what even its proponents claimed was an "unprecedented law," instead agreeing on a compromise that may or may not change the status quo. This will depend on whether the publishers decide that the current Google News summaries that amount to three lines are too long.
The law may also be foiled during an upcoming vote in the Bundesrat, the upper chamber of parliament, as it is dominated by the opposition parties.
Google has faced similar attacks from newspapers in Belgium and France. Last month it agreed to pay a settlement of €60 million to French publishers for the right to continue displaying its news links, and it made a "partnership agreement" with Belgian newspapers, following a six year legal battle.

But in Brazil there has been no compromise. Last year more than 90 percent of the local media unilaterally withdrew itself from Google News.

You can share this story on social media: