'Go Home Illegal Immigrants' campaign may spread UK-wide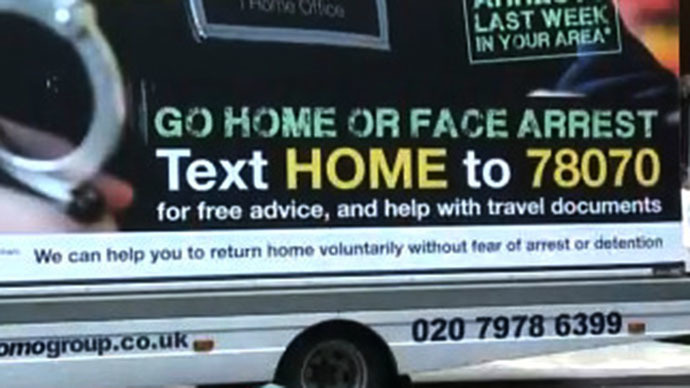 The British government says that a controversial billboard scheme commanding illegal immigrants to go home or face arrest is "working," adding that the campaign – termed 'stupid and offensive'- could be extended nationwide.
A spokesperson for UK PM David Cameron stated on Monday that "this pilot that is currently running is about targeting [illegal immigrants] and it is working."   

Downing Street claims that employing vans carrying the billboards with 'In the UK illegally? Go home or face arrest' across them is more effective than seeking immigrants out, arresting them and subsequently removing them by force.

While claiming that the scheme has already made an impact, the Home Office would not give figures on immigrant numbers who had been responsive to the posters, saying that the week-long trial had only reached its conclusion of Sunday so it was impossible to release official statistics at this point. They added that they were "looking at what they can take forward."

British Immigration Minister Mark Harper had described the new initiative as "an alternative to being led away in handcuffs" last week.

The signs have been used as part of the preliminary scheme alongside the distribution of leaflets, being driven around six London boroughs on two trucks over the course of a week.

The billboards also provide immigrants with a number to SMS if they require support, information or documentation. Overall, the campaign costs Britons around 10,000 pounds ($15,300).


Immediate debate sparked over "stupid and offensive" scheme

UK Business Secretary Vince Cable condemned the campaign on Sunday as "stupid and offensive" on the BBC's Andrew Marr show, suggesting that its continuation was unlikely.

Don Flynn of Migrants Rights Network said on Monday that Cable's comments were "further evidence that exploiting public anxiety is not the simple route to instant popularity," while pointing out that the trucks toured areas "where Conservative election strategists think they are susceptible to losing votes to [UK Independence Party] UKIP." He added that ironically, the Home Office was now tasked with fending off complaints against themselves through British watchdog, the Advertising Standards Authority.

Even Conservative London Mayor Boris John son conceded "I suppose it could have been more gently drafted" in a Sunday Telegraph column, despite defending the scheme overall, saying "Illegal immigrants have every opportunity to make their case to remain in Britain."


@farah_way@migrants_rights We really disagree with the threatening language & stance taken in the ads. A full comment is in our statement.

— Refugee Action (@RefugeeAction) July 24, 2013

A drawn-out backlash against the scheme took place over the weekend, with clergy and councils alike denouncing it.

"We were neither informed nor consulted about this Home Office initiative. We have no information from the Home Office about why they have chosen Redbridge to carry out such an unusual scheme," said Councilor Keith Prince of the London Borough of Redbridge in a statement.

"This mobile billboard campaign is a very inappropriate way to discourage illegal immigrants from staying in the UK, not least because the message that is often received is that all immigrants and foreigners are unwelcome in the UK," Bishop Patrick Lynch, the bishop for migration for the Bishops' Conference of England and Wales, said on Friday.


Updated, Mark Serwotka calls 'Go home' campaign a "nasty political stunt" http://t.co/UpccbPOD3i#PCS

— PCS Union (@pcs_union) July 29, 2013
In conjunction with the billboards, numbers of reforms are set to be introduced to combat illegal immigration in the UK. They will include a $4,600 bond which selected visitors from certain countries will be required to pay upon applying for a British visa. The bond will be returned to visitors from India, Bangladesh, Sri Lanka, Pakistan, Nigeria and Ghana when they leave the country.

The new measures are set to come into play in November.