GM crop grant planted in UK: Britons wary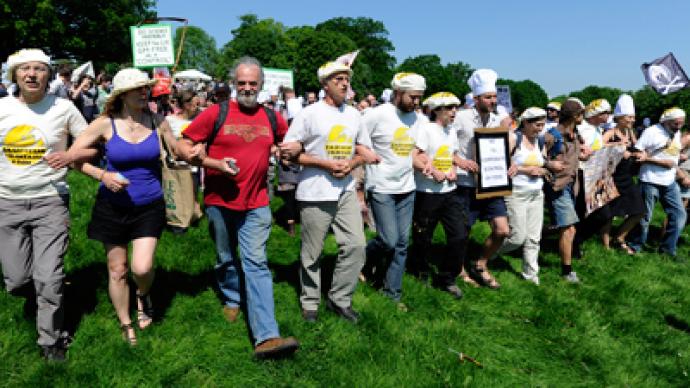 UK scientists have received a US$10 million grant for research into GM crops in one of the biggest investments in the field. The British public remains skeptical of GM foods, a recent report suggesting they pose both environmental and health threats.
The multi-million investment from UK-based charity the Gates Foundation will be used to cultivate GM modified corn, wheat and rice.Scientists from the John Innes Center are hoping to create a strain of crops that are able to extract nitrogen from the air, thus eliminating the need for chemical ammonia spread on fields. The John Innes Center claims such an innovation would have a massive impact on global agriculture, in particular on poorer farmers who cannot afford fertilizers.In addition, they maintain it would cut back on fertilizer use as a whole and reduce the greenhouse gas emissions they create.
The grass isn't always greener
GM crops are a bone of contention in the UK and it is currently illegal to cultivate them. Opponents of the controversial research maintain that it will be years before tests yield any practical results and then food shortages could be dealt with by cutting down on wastage.Moreover, a study published recently in the UK by a genetic engineer from London's King's College of Medicine signaled that GM foods pose a more serious threat than advocates of research would have the public believe."GM crops are promoted on the basis of ambitious claims – that they are safe to eat, environmentally beneficial, increase yields, reduce reliance on pesticides and can help solve world hunger," said Dr. Michael Antoniou, author of the report.The investigation claims that research into GM crops is incomplete and tests on the effect of their consumption are not comprehensive enough. Regulatory industries worldwide rely on companies selling GM products rather than independent testing, stipulates the paper.Dr. John Fagan, co-author of the paper stated that current GM techniques produce "crude" and "imprecise" results and "can create unexpected toxins or allergens in foods and affect their nutritional value."Additionally, the report claims that GM crops have increased the use of herbicides and pesticides that cause cancer and can lead to birth defects, among other health complications.In the latest display of public malcontent, anti-GM activists tried to storm a field of genetically-modified crops in the county of Hertfordshire near London in May. UK police barred them from entering and arrested two men for trespassing.The protesters were planning to rip up the field which was part of a scientific testing facility.The UK is not the only country where the debate on GM crops is raging. Five other EU countries – Germany, Greece, Austria, Luxembourg and Hungary have also imposed bans on their cultivation.Currently, the US is the biggest consumer of genetically-modified crops, with over 70-75 per cent of processed food estimated to contain a GM ingredient according to the Grocery Manufacturers of America.In June a committee made up of members of the US House of Representatives voted in favor of biotech giant Monsanto, allowing farmers to plant genetically-modified seeds.Monsanto has faced a barrage of legal challenges recently, contesting the use of GM crops on the grounds that they are not safe and damage the environment.
You can share this story on social media: