'World's first' farmer trial over GM crop contamination begins in Australia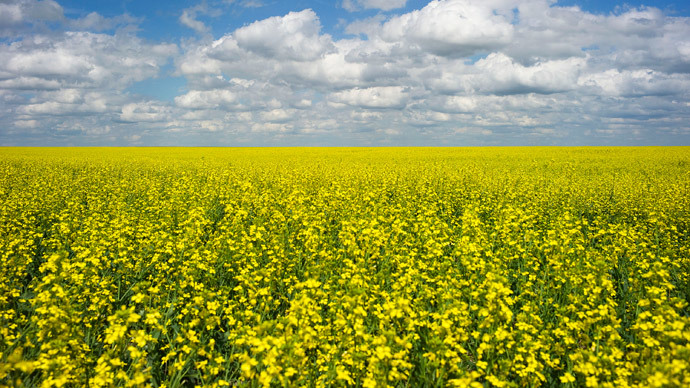 A landmark legal battle between two farmers over alleged GM contamination has started in the Western Australian Supreme Court. The case is expected to determine GM farmers' liability if their crops affect neighboring territories.
The globally monitored legal battle involves local farmer Steve Marsh who sued his neighbor Michael Baxter for negligence over the alleged contamination of the land that Marsh used for growing organic oat and wheat crops at Kojonup, 250 km south-east of Perth, Western Australia.
Lawyers say it is the world's first trial over GM contamination and will set a precedent for future cases.
"As far as we know, this is the first court case of its type anywhere in the world," said Marsh's representative Mark Walter, a lawyer at Slater and Gordon's Commercial and Project Litigation. The case could have an impact on the conventional farming industry and consumers, he said, as cited by the WAtoday news website.
It will test the legal rights of farmers to choose how and what they farm on their land, Walter pointed out.
"It is important that farmers retain their rights to farm GM-free food as this in turn will protect consumers' ability to purchase GM-free food," he said.
The trial is expected to last for three weeks and is likely to lead to regulations outlining boundaries between GM and organic farms, potentially reducing the land available for cultivation, experts said. It could also change Australia's zero tolerance policy for contamination of organic crops.
#IamSteveMarsh supporters outside the Supreme Court in Perth ahead of landmark trial starting tomorrow #PerthNewspic.twitter.com/VKJIa8FhDh

— Courtney Bembridge (@courtbembridge) February 9, 2014
Organic farmers fear this could lead to a lose-lose situation for them. If the zero tolerance policy remains in place, they risk being stripped of their organic certification because of contamination as GM crops production increases. If the policy is eased, Australia would lose its position as a strict organic producer amid the growing popularity of GMO-free food across the globe.
For the season 2013, West Australia's growers bought a record 416 tonnes of Roundup Ready canola seed, which is 38 percent more than the previous year.
'Reckless' farming blamed for contagion
Marsh, 49, claims that back in 2010, Baxter's Roundup Ready canola seed and swathes were blown by the wind onto his farm, causing him to lose organic certification on 70 percent of his land. This cost him an estimated $ 85,000 (about US $76,000) in financial losses.
At the time of the alleged canola drift, Marsh's farm was certified organic by the National Association for Sustainable Agriculture Australia (NASAA), which has a zero tolerance for GM material.
Richard Niall, a barrister for Marsh, told the court on Monday that the situation had had a devastating effect on his client's livelihood and that it was Baxter's fault.
Marsh's neighbor "was completely indifferent and reckless by planting genetically modified canola in adjoining paddocks," Niall said, as quoted by the Australian Associated Press (AAP). The famer failed to contain the GM seeds, and "thousands of them" escaped in the wind onto Marsh's property, he said. The lawyer claimed that at the time Baxter planted the canola he knew the seeds would escape since that was "plainly foreseeable."
Supporters of non-GM farmer Steve Marsh gather in #Perth ahead of trial tomorrow pic.twitter.com/0ySSM9s7ss

— Courtney Bembridge (@courtbembridge) February 9, 2014
Baxter, 48, maintains that he observed all the requirements regarding the buffer zone and informing neighbors when planting the GM canola – shortly after the Western Australian government allowed its commercial cultivation in 2010.
The farmer bought the seeds from biotech giant, Monsanto. Marsh's supporters also allege that the American corporation is providing financial aid to Baxter in the legal action – something the company declined to comment on, saying only that it was not a party to the case, Reuters reported.
The organic farmer dropped his plans to sue the US firm because of non-liability contracts it signs with all farmers who buy its seeds, said Scott Kinnear, director of the Safe Food Foundation, an organic farming advocacy group which is collecting donations to help fund Marsh's suit.
'Grow a heart, Monsanto!'
An emotional debate around growing GM crops has been going on in West Australia ever since the first such commercially grown crop was allowed about four years ago.
The legal battle between the two farmers has added fuel to the fire, with Marsh's supporters rallying on Monday outside the court. A bunch of protesters carried placards that read 'No to GMO,' 'We want 100 percent organic food,' and 'Grow a heart, Monsanto!'
Supporters of GM farming, such as the Western Australian Pastoralists and Graziers Association, say that Baxter did nothing wrong. Just as opponent groups backing Marsh, they are also collecting donations to cover the GM farmer's legal costs.
John Snook, Chair of PGA's western growers, said he was frustrated by the lack of public support for choice in agriculture and the advantages of new technologies, reported Radio Australia.
"When you push the alarmism aside, the case is very clear that Steve Marsh is trying to impose unnecessary conditions on his neighbor and trying to stop him growing GM canola," he was quoted as saying. "So we feel we are on very principled and solid ground. A legal precedent will be set."
You can share this story on social media: