Glory to Mumbai heroes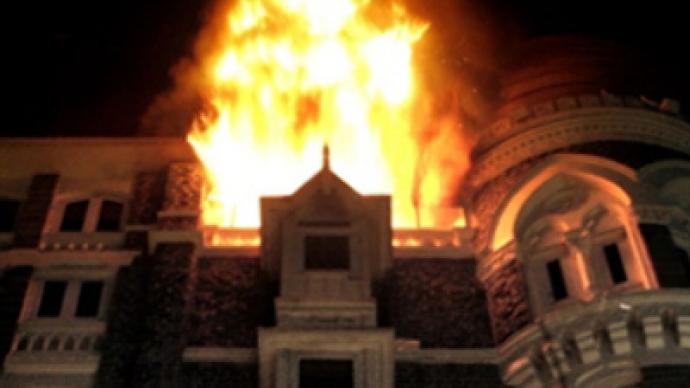 "Do not come up, I will handle them." These were probably the last words which Major Sandeep Unnikrishnan spoke to his men just before being hit by bullets while engaging terrorists inside the Taj Hotel, Mumbai.
As India investigates the terrorist attacks on the city of Mumbai, the entire nation salutes the security officers who laid down their lives in the line of fire, like Major Sandeep Unnikrishnan – the only son of retired Indian Space Research Organisation (ISRO) officer K. Unnikrishnan.
On the night of the attacks, a Wednesday, Major Unnikrishnan's family in Bangalore got a call from him, asking them to switch on the TV to see the news about the attack on Mumbai. Who could know that it was the last time they'd hear his voice.
On the following Friday morning, the Major was killed at the Taj Hotel, risking his life to save others. He was 31.
"One of their constables was injured. He turned to lift him and save him. At that time, a terrorist was escaping. He followed and didn't want to let him go. He turned back and fired. Before he could be taken to a hospital, he died," recounts Sandeep's father.
"I lost my son in Mumbai. Though I do not like to call him a martyr, I can proudly say that he has done something for this country."
When Unnikrishnan joined the Army nine years ago, his family knew he was going to lead a dangerous life. But they still can't come to terms with the fact that they will never see him again.
The Major joined the National Defence Academy (NDA) and was commissioned in the Bihar 7th Regiment in 1999. He went on to serve the Indian army in the cream of the crop National Security Guard (NSG) and was assigned to its Special Action Group (SAG) in January 2007.
"Sandeep was leading a team and during the operations, two of his colleagues sustained bullet injuries. In a bid to save them, Sandeep turned back. The bullets fired by the terrorists pierced him," his father said.
"On November 26, he had called us and said that one of his childhood friends was getting married in the city on December 17. He had planned to attend that marriage," remembers the grieving parent.
Major Shiwain Kaul, a close friend and classmate at the NDA said that because Sandeep was the training officer, he was not supposed to be there but was roped in as he had good experience.
"He (his father) told me that he knows that his body has reached the airport but he has to go and do the formalities and paperwork," Major Kaul said.
"Another of our classmates has gone down fighting like a brave heart," Major Prashant Arora, another classmate of the slain Major, said. "Honestly I had not met him after NDA but as soon as his name was announced I went back 10 years. That is the beauty of the academy and of being part of a course."
Another NDA classmate, Major Amit Kirti, said: "It's really sad specially this year for our course; I really don't know what to say at this moment but would request all of you to take care." He added that he still remembers how he and Sandeep bunked together at the academy.
Sandeep's profile on a social networking sites shows that he was a simple, down-to-the earth person who loved travelling. "I am a total movies maniac," says one of the descriptions in his profile.
Relatives, friends and staff, in addition to thousands of ordinary citizens, came out in the streets to pay tribute to him. His funeral was held with full military honours.
"Long live Sandeep" were the chants that began at his house in Banglore, India.
Major's 'Buddy' Remembers
The NSG commando, who fell a prey to terrorist bullets during the gun battle at the Taj Hotel in Mumbai was actually protecting his partner, or 'buddy', Hawaldar Sunil Yadav said. The commandos always move in pairs and the primary responsibility of the partners is to protect each other.
"It was the decision of Major Sandeep to take me out of the hotel for medical treatment after I was hit by a bullet. That saved my life," recalls commando Sunil Yadav, who was Sandeep's 'buddy'. Yadav, who suffered bullet injuries in both his legs, is currently recuperating at the Bombay Hospital.
The terrorists had locked the door from inside and were holding a few women as hostages, Yadav recalls adding that the commandos were forced to break the door open later.
"As soon as the door was opened, the terrorist fired at us. His bullet injured me," said Yadav. After rescuing the hostages, the commandoes threw a grenade at Yadav but by then he had moved out.
Sandeep asked the other commandos to carry Yadav, who was bleeding profusely, out of the building. "However, he (Major Unnikrikrishnan), continued the battle and was gunned down," recalled Yadav tearfully.
Slain major's father snubs politicians
In a move that depicts the agony of a common man towards the politicians, Unnikrishnan's father refused to meet the chief minister (CM) of the southern Indian state of Kerala, V. S. Achuthanandan, on Sunday. The CM, who had been criticized for his delay in offering condolences to the mourning family was attempting to make amends by calling on the Unnikrishnans.
The dead commando's father refused to accept the CM's presence and shouted at him to leave at once. He also refused to allow police sniffer dogs into his house when security personnel came there ahead of the Kerala CM's visit to perform their duties.
He also threatened to commit suicide if any politician entered his house and told his friends that his son did not belong to one state but to the entire nation. The state government was highly criticized for showing disrespect to the Kerala-born soldier by not sending a minister to his funeral.
CM's "insensitive" reaction
Just one day after Kerala Chief Minister V.S. Achuthanandan was asked to leave by the father of slain NSG commando Major Unnikrishnan, the CM spoke to a local media channel and commented that had it not been Sandeep, "not even a dog would have visited his family."
On Sunday night (November 30) the slain Major's father remained firm that no politician should enter his house and refused to meet Achutanandan and Home Minister Kodiyeri Balakrishnan.
CM apologises and announces aid
In the latest move, the CM of Kerala has apologised for insensitive remarks about the commando killed in the Mumbai attacks.
"I regret and apologise for my comments which caused anguish to Sandeep's family and others," V.S. Achuthanandan said.
On Wednesday, the Kerala government announced a sum equal to approximately $US 31,000 would be given to Sandeep Unnikrishnan's family.
Other officers laid down lives
Wednesday was Rajeev Khandekar's day off from work but when news of the attack on Mumbai came in, the 36-year old constable didn't think twice about rushing to work. Khandekar was sent to the Cama Hospital, one of the sites where the terrorists had run amok. It was to be his last mission. Along with three other top policemen, Khandekar fell to a terrorist bullet.
Khandekar had joined the police in 1992 after his father's death. His mother, wife and five year old daughter now face a bleak future. They've lost their only caregiver.
Three of Maharashtra's top policemen also gave their lives to protect innocent civilians. The three police officers were Maharashtra's finest – ATS Chief, Hemant Karkare, encounter specialist, Vijay Salaskar and ACP Ashok Kamte.
Hemant Karkare was an officer known for his discipline and fairness. Part of the IPS class of 1982, he served in RAW for nine years and was made ATS chief in January this year.
Encounter specialist Vijay Salaskar was an officer of the 1983 class and had close to 80 terrorist encounters under his belt while ACP Ashok Kamte had earlier served as the commissioner of Solapur. Kamte was always known to be in the thick of action.
Prime Minister Manmohan Singh said: "I salute the courage of the ATS chief Hemant Karkare and the others who have laid down their lives in fighting this attack."
As families grieve the loss of their loved ones, the city mourns the death of its heroes.
Nidhi Sharma for RT
You can share this story on social media: