Global Noise takes on austerity: 'We are not going to be silent'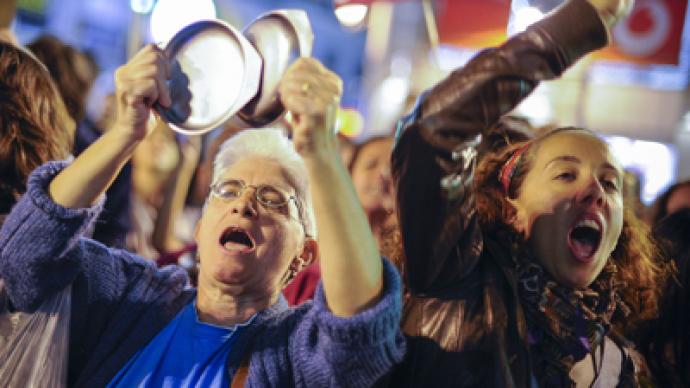 Demonstrators across the world are calling for an end to austerity as Global Noise protests kick off in more than 30 countries, including many in the Nobel Peace laureate European Union.
­The worldwide demonstrations on Saturday passed without incident, and Caleb Maupin from the International Action Centre explained what's driving the public to take to the streets.RT: A year ago Occupy Wall Street spread across the world, and now it's Global Noise. What is Global Noise all about? How is it different?Caleb Maupin: Basically, Global Noise is saying we are not going to be silent. Because right now the banks are coming for us – they are cutting all of the programs. There is mass unemployment. There is cutting in government spending and the governments of the world are just having to pay back the banks. And in the process, our future is being destroyed. It is impossible to get an education in this country without a rising debt.  What we are saying is that we are going to be a global noise. We are the next generation, the youth part of the working class as our future is being destroyed. We are not going to silently sit back and let them destroy our future. We are going to be loud. We are going to be confrontational and we are going demand that this stop. Austerity is a crime against the people. These cuts are a crime against us, and we are going to demonstrate and we are going to oppose it.  RT: America has not seen austerity cuts as of yet. But in Europe this is precisely what the Global Noise rallies were aimed against. Is it merely a show of support for Europe, or is there, say, a message in the demonstrations for the US presidential candidates?CM: There are plenty of austerity cuts in the United States. Food stamps, a program which many millions of people depend on so they can have food, is being cut. College prices are going up. They had kind of halted it because they are planning after the elections to have austerity. All the major cuts are going to happen after the election. But even with these latest debates, you see Romney and Ryan, Obama and Biden, they are all debating how much to cut. How responsibly can you get rid of Social Security, how responsibly can we do it? It is austerity, it is global austerity. Because, you know, Lenin spoke of it in his book – imperialism is the highest stage of capitalism, because the banks kind of become the center of capitalism, its monopoly stage. And right now it is a revolt against banks. Instead of people having to take all these cuts, why don't they simply start the cuts to the banks? The government of the United States has the ability to do that. They can pass legislature saying that the banks have to be delayed, but instead they keep paying back the banks with these loans that have taken from the government, and programs that people need to survive on are being cut. At a time of mass unemployment, millions of youth have great anger on what's going on, and it is exploding into a global anti-capitalist rebellion. It is here in US. The phrase "we are the 99%" represents what millions of people understand, which is that a small elite, the bankers, capitalists, they own the world and the rest of us just get to live in it. Well, it is time that we are heard. We are a global noise and we are going to rise up and demand a change to that situation.RT: Presidential elections are coming up in the US and the Obama administration is criticized for the bailout, while Republicans are promising austerity. And what do you think the policy should be for the US here?CM: I think whoever wins this election, it is very clear that after the election, it's over. They are going to begin an extreme amount of mass austerity. And the terms of the debate are sickening – the terms of the debate are essentially how much to cut. Some people say, we should just cut everything; others say we should just cut a little bit. No! The people don't have to pay for the crisis the bankers created. But that message is not part of the discourse in this country right now. The discourse is limited to one form of cutting or one form of cutbacks, and that is frightening. And that is why the Occupy movement came in. We are the 99%, or as the labor movement and progressive forces have said for a long time – class against class. It is not Republicans versus Democrats. It is about the bankers versus the people – the people who sell their labor to survive and those who own the world.