Global arms treaty: Deep divisions remain serious obstacle
Published time: 2 Jul, 2012 21:25
Edited time: 3 Jul, 2012 01:25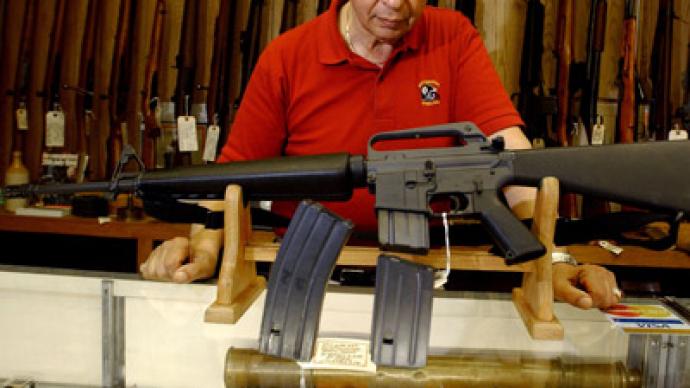 Delegates from around the world are meeting in New York for month-long arms treaty negotiations, hoping to bring more regulation to the $60 billion a year industry. But efforts to forge an agreement are threatened by some countries' differences.
­Most states favour a strong treaty to regulate the weapons market. The top arms trading nations are the US, Russia, China, Britain, France and Germany.

As delegates from around the world meet at the UN in New York there are deep divisions on key issues, such as whether observation of human rights should be included as mandatory for any country wishing to buy arms.  
The European nations led by France, Britain, Germany and Sweden are pushing for a "strong provision on human rights". Having binding language regarding arms exports in connection with human rights violations is opposed to a varying degree by many countries, including Russia and the US. The major counter argument is that human rights clauses can fall prey to subjective use.
Russia is pushing for the illegal arms trade to be more tightly regulated and wants to cut the number of intermediaries.  
There are also disagreements over what arms the treaty should cover. The UK government insists that "all conventional weapons, from fighter planes to rifles, bombs to bullets" must be included in the treaty.
China wants to exempt small arms, while the United States, China, Egypt and Syria are pushing to exempt ammunition. The US believes it will be too difficult to include ammunition in any agreement and is concerned about its domestic arms industry. 
"We do not want something that would make legitimate international arms trade more cumbersome than the hurdles United States exporters already face", Thomas Countryman, an assistant secretary of state, said in April.  
The treaty has been developed since 2006 with the help of a number of human rights organizations.
The US, which as the biggest supplier of arms worldwide with 40 per cent of sales, said it would support a treaty in 2009 after Barack Obama became president. But US officials have said they will "veto a weak treaty."

Even in the event of certain nations vetoing it, the treaty may not be doomed. Countries in favour of a strong pact could bring a treaty to the UN General Assembly and adopt it with a two-thirds majority vote. 
Arms control campaigners say one person every minute dies as a result of armed violence in the world and that a treaty is needed to stop guns pouring into conflict zones. The urgency of the treaty is emphasized by the conflicts in the Middle East and North Africa in the last two years, which were fueled by both legal and illegal arms supplies to all sides of the conflicts.
Brian Wood, head of arms control at Amnesty International, told RT, "What we have now is the body-bag approach to arms control. At the moment there are too many loopholes and the system is a complete free-for-all."

"What happens year after year is governments say, if we didn't sell them, someone else would. The advantage of a treaty is that we all have to follow the same rules." He said.

Campaigners want governments to regulate the sale and transfer of all weapons and ammunition, including those used by domestic security services and they want trading without permission or diverting arms to be made criminal.

Anna McDonald, head of arms control at Oxfam told RT, "our concern is that the treaty will become a watered-down list of recommendations rather than legally binding instructions that states have to follow."