Girl convicted in Russian Roulette killing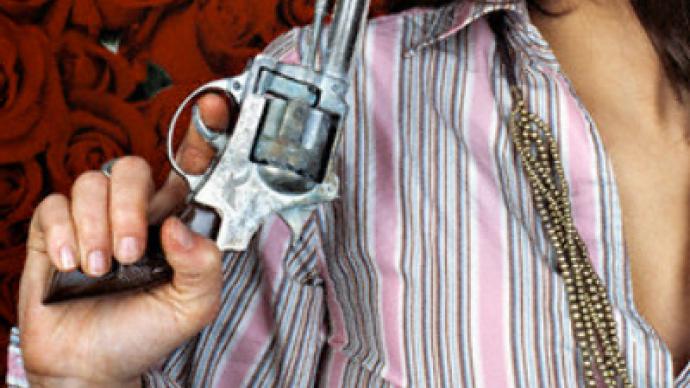 An 18-year-old Moscow girl is sentenced to four years in prison for killing a boy who did not reciprocate her feelings while playing Russian Roulette, the Komsomolskaya Pravda newspaper reports.
On the tragic day, a group of teenagers – three boys and two girls – gathered at Evgeniya Kozlova's flat for a party. Her parents were away and the youngsters drank beer and chatted until late at night.
But then the hostess, in an apparent attempt to add some drama to the gathering, took out her father's gun and proposed to play Russian Roulette.
The guests refused and the boys started to go home, but Evgeniya didn't give up.
"Then I play myself," she said and pointed the gun at Aleksander Malofeev. Evgeniya's friends said she liked the boy, but he didn't return her affection.
The sound of a gun shot followed, and Aleksandr fell to the floor. The other boys rushed out of the apartment, and called the ambulance.
The girl decided to cover up the tracks. Aleksandr's bleeding body was taken to the elevator, moved to the ground floor, and dragged the body to the trash bins.
"It's amazing how cold bloodedly Kozlova covered up the tracks. She washed the apartment floor, wiped off the blood traces on the stairs and in the elevator, changed her cloths after that. To hide the fingerprints she wiped the gun with a cloth," said neighborhood police inspector Gregory Khramov.
Emergency medical personnel found the body of Aleksandr Malofeev, and provided immediate atention. Despite their efforts, the youth died in the hospital two days later.
"We talked to the neighbors, and they gradually came to Evgeniya's apartment. She refused to cooperate at first, but then confessed that she studied with Alexander in the same school, and even gave the phone number of the boys who called the ambulance," Gregory Khramov said.
Aleksander's friends told the police about the murder. They also characterized Evgeniya as a very proud person. It obviously hurt her that Alexander did not pay attention to her feelings.
And she showed her attitude to what she did during one of the interrogations:
"Yes, I killed him. What's the big deal?" she said.
You can share this story on social media: