'Wealthy' Germany brushing big issues under the carpet on eve of elections?
On the eve of elections, Germans are concerned that mainstream political parties are not confronting the real issues facing Germany, as young people begin to shun traditional political voices in Europe's biggest economy.
On the surface, life looks good in Germany. The country boasts one of the strongest economies in the world, thanks to a robust manufacturing sector. Unemployment is just 5.3 percent, down from 9.8 percent a decade ago.
"Today many people are better off than they were four years ago, in 2017 even more people can say: we are doing better in our country," German Chancellor Angela Merkel said earlier this month, in anticipation of winning another term in office.

Peer Steinbrück, leader of the center-left Social Democrats and Merkel's challenger, believes the upbeat statistics hide an underclass which is scraping by on low-paid jobs.

A lot of ordinary people have seen little benefit from Germany's economic prosperity - the gap between rich and poor has grown remarkably over the past 15 years, Steinbrueck said earlier this month.
Many Germans are forced to make ends meet on just over US$1,000 per month, on a mix of unemployment benefits and salaries which can be as low as $2 an hour. Despite its wealth, Germany has resisted introducing a minimum wage policy despite numerous calls.

This is something that Steinbrück wants to change. The Social Democrats (SPD) are fighting to implement a national minimum wage of $11.20 per hour.
Polls show that the SPD is currently lagging behind Merkel's governing Christian Democrat party (CDU) and its sister party, the Christian Social Union coalition (CSU). Most opinion polls put Merkel's CDU-CSU coalition at around 40 percent, and Steinbrueck's SPD at about 26 percent.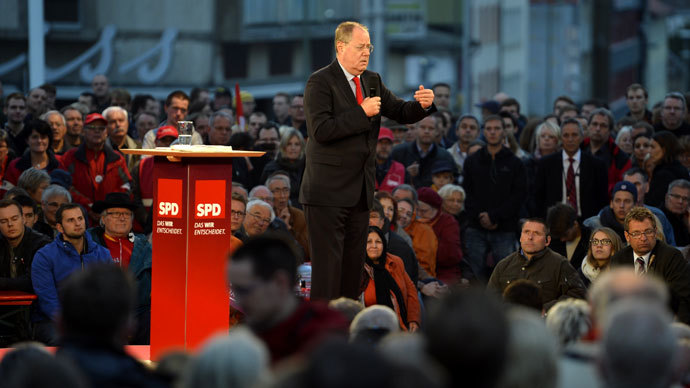 Coalition politics
With the almost certain prospect of Merkel having to form a coalition with either the pro-market Free Democrats or the Social Democrats, German business executives and financial institutions are backing Merkel as the most pro-business candidate.
Many business leaders believe that Merkel's support for a financial transaction tax - unpopular with banks and financial intuitions - will wane after the election if Merkel continues a coalition with the current Christian Democrats.
But if Merkel is forced into a grand coalition with Social Democrats, many are worried that she will be forced to adopt their more left-wing agenda – including greater regulation for the financial sector and aiming to cap rents for Germany's army of households that lease their properties.
The two heavyweight parties - the CDU and the SPD - have also been criticized for agreeing on too many issues, says RT's Berlin correspondent Peter Oliver, who has been following events in the run up to the election.
Voters, particularly the younger ones, are concerned that nothing is being done about the NSA spying scandal. They want to know how much Merkel knew and whether she actually allowed the NSA to spy on German citizens. 
Young voters are also irritated that politicians in the Bundestag – Germany's parliament - are not listening to them and what they want.
"They want education, they want jobs. These wishes aren't being addressed by the main parties," Gero Neugebauer from the Free University of Berlin told RT.

In contrast to the image of the lucrative economic capital of Europe propagated by the mainstream media, many Germans are beginning to feel the pinch in the financial crisis.
"I think if you were to ask someone from Spain they would tell you Germany is an economic land of milk and honey, this just isn't the case," said Christian Deubner from the Foundation of European Progressive Studies to RT.
With high-paid jobs thin on the ground and the absence of a minimum wage may Germans are struggling to stay afloat financially.
"I sat with my roommate we realize we make too little cash. It's a case of either we give up our studies and find more work, or we lose our flat," an inhabitant of the city of Bochum told RT.
Although Steinbrück has accused Merkel in the past of hiding the true cost of bailing out Greece from German voters, he is not going to slam her too much publicly, as he knows there is a real possibility of having to sit down with her to hammer out a coalition after the votes have been counted.

In the immediate run up to the elections both politicians have refrained from broaching the issue of a third Greek bailout that is looking progressively more likely as Greece's debt burden now exceeds 160 per cent of its GDP.
"It's possible that there will be a new aid package for Greece. Nobody knows how big," Merkel said in the televised debate at the beginning of September. However, she has also stressed the importance of maintaining reform pressure on the crisis-stricken country.
While the two main opponents are tiptoeing around each other on some of the biggest issues facing the country, Germany's smaller and newer parties are seeing a renaissance.
The Alternative for Germany party (AFD), which is pushing a Eurosceptic agenda and wants tighter controls on immigration, may achieve the 5 percent minimum of votes required to gain a seat in the Bundestag.
"We are Eurosceptic with reference to the common currency, we have a number of other issues such as our energy policy or the instability of our social security system, issues of immigration and integration into Germany," Bernard Lucke, the leader of the party, told RT.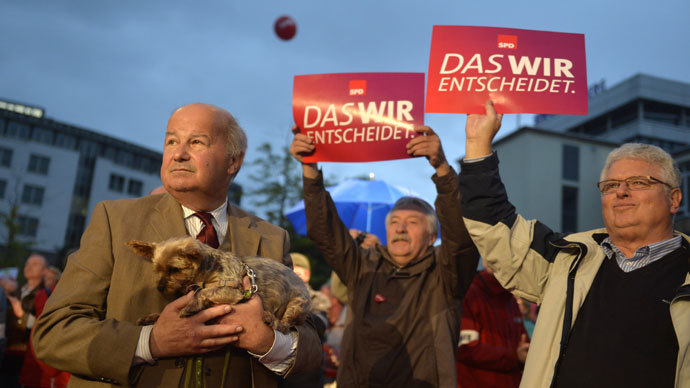 Comic relief
And with Merkel's current coalition partners - the Free Democrats - taking a hammering in the opinion polls, many voters are turning to the Alternative for Germany party.
Voter turnout is not predicted to be particularly high, and the main parties are tailoring their messages to key voters. The average German voter is 45 years old.
In a bid to capture the hearts and minds of Germany's youth, several parties have come up with some unusual policies in the overall election campaign, which some have described as dull.
The Green Party, which holds around 10 percent of the vote, has suggested compulsory vegetarian days. Meanwhile, the Free Democrats want to make it illegal for trains to run late.
This, says the Alternative for Germany Party, is a classic distraction technique from parties who don't want to tackle the real issues facing the country. 
"When you talk about their [Social Democrats] support for the government's decision to implement the [eurozone's new permanent rescue fund] ESM, to initiate further payments for Greece, they all said, 'yes, yes, yes.' There is no real opposition in parliament," Hugh Bronson, an election candidate for the Alternative for Germany party, told RT.
Then there is the simply named 'Party,' whose members have decided they are going to do the opposite of what political parties usually do – as well as throw all tourists out of Berlin and build a wall around Germany. The party has said it expects to get over 100 percent of the vote.
"We want to get to power and then we are going to decide what we are going to do with it," Martin Sonneborn, leader of the Party, told RT.
This is most likely what Merkel herself will have to do, says Oliver.
"It does seem that after the votes have been cast, the real political wrangling will start when it comes to forming a new coalition in Germany," he said.
You can share this story on social media: