Twice as deadly: Saudi Arabia aims at 10 bln euro tank deal with Germany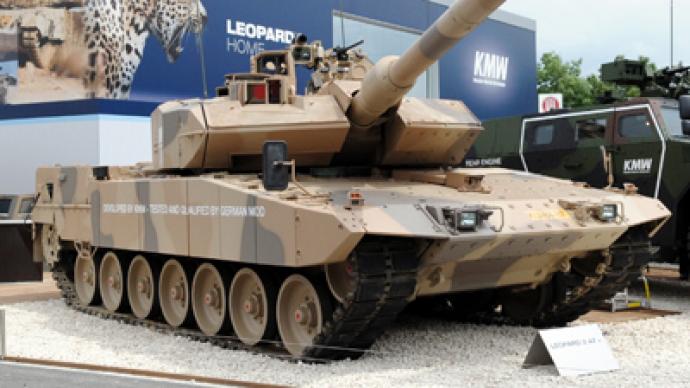 Saudi Arabia wants to buy between 600 and 800 Leopard II main battle tanks from Germany, at least twice more than what was previously reported, a German newspaper says. The future deal is estimated to worth around 10 billion euros.
A German-Saudi contract for purchase of some 300 brand new modern tanks was on the table since at least last year. Hover the Gulf monarchy wants more hardware, Bild newspaper reports.There is still resistance in the German federal government to selling military hardware to Saudis. Foreign Ministry and Defense Ministry both oppose it due to security and human rights considerations.The Economy Ministry advocates the deal, which would give a boost to domestic defense producers Krauss-Maffei Wegman and Rheinmetall, especially as the demand for armor from the German army shrinks with its ongoing restructuring.The initial contract for 300 tanks is already ready for signing, but still requires consent from a council of eight German ministers and the Federal Chancellor, who has to approve any export of military technology from the country. So far Germany was reluctant to sell heavy arms to the Gulf nations.Bild says Spanish firm General Dynamic/Santa Barbara would produce the tanks under a license, if the deal is finally given the green light. Saudis would like to have it sealed before the holy month of Ramadan starts on July 20.The first reports on a possible sell of hundreds of state-of-art German Leopard 2A7+ tanks surfaced in July 2011. The news caused criticism by rights groups and opposition politicians in Germany, who were discontent that German arms would be supplied to a country with poor human rights record. They said Saudi Arabia may the tanks, which are tailored for desert and urban warfare, to quash domestic dissent.When mass pro-democratic protests erupted in Bahrain last year, Saudi Arabia sent its troops to help local security forces in a crackdown on the Bahraini opposition. The two monarchies are currently considering forming a closer political alliance.
You can share this story on social media: