German Chancellor: doors 'remain open' for negotiations with Iran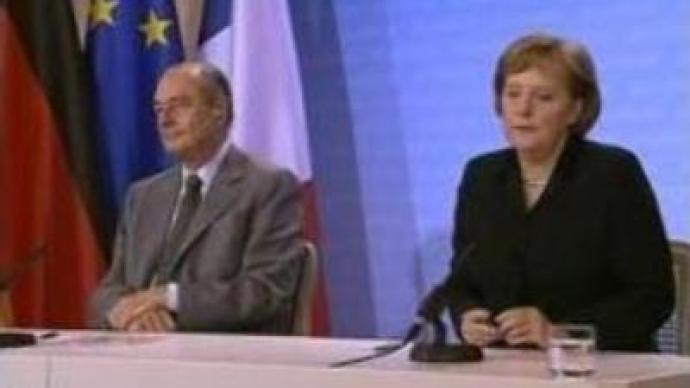 The Permanent UN Security Council members plus Germany are to meet in London on Monday to discuss possible further sanctions against Iran. However, according to Germany's Chancellor, doors 'remain open' for talks with Tehran.
The IAEA report said Iran had expanded its enrichment programme, going against a UN resolution set in December last year.Nevertheless, Germany's Chancellor Angela Merkel, speaking at a press conference with the French President Jacques Chirac, said doors 'remain open' for negotiations with Tehran.On the other hand, the U. S. Vice President Dick Cheney said the American military action against Iran over its nuclear ambitions is still an option.In addition, the U.S. Secretary of State Condoleezza Rice said diplomacy can succeed only if the international community remains unified in confronting Iran.
"We are joined with the international community and showing Iran that this activity, this path of Iran is one of isolation, but there is another path. We have with our partners and the EU, Russia and China put forward a proposal for wide-spread economic and political co-operation with Iran through the negotiated process, and we continue to hope that Iran will take that path rather than the one of confrontation,"
stressed Ms Rice.Meanwhile, the Iranian President Mahmoud Ahmadinejad said his country will defend the rights of its people to nuclear power to the very end.On its side, the West claims Iran's enrichment programme is aimed at building nuclear arms, but Iran denies this.The sixth page of the IAEA report says Iran has installed two cascades, or networks, of 164 centrifuges in its underground plant in Natanz, with another two cascades close to completion. A total of 3,000 centrifuges are expected to be installed in the coming months.If this happens, Iran will be able to increase its level of enrichment from research to industrial scale production.Therefore, the UN Security Council is now authorised to take further measures, which could mean harsher sanctions.
"This will be of course a matter for the members to decide, of course the presidency after the report will be delivered will be in contact with all of the 15 or 14 Security Council members and will find out whether there is a mood for consultations during our presidency or maybe a little bit later,"
said Peter Burian, the current UN Security Council President.Other steps could also be taken to try to get Iran back to the negotiating table.Jackie Sanders, a member of the Permanent Mission of the United States to the UN, said it is important the Security Council presents a united front.
"Iran needs to see an international community that stays co-ordinated and showing a common purpose to have them stop what they're doing in developing nuclear weapons,"
she stated.
You can share this story on social media: