Georgian opposition within and outside prison walls on Christmas Eve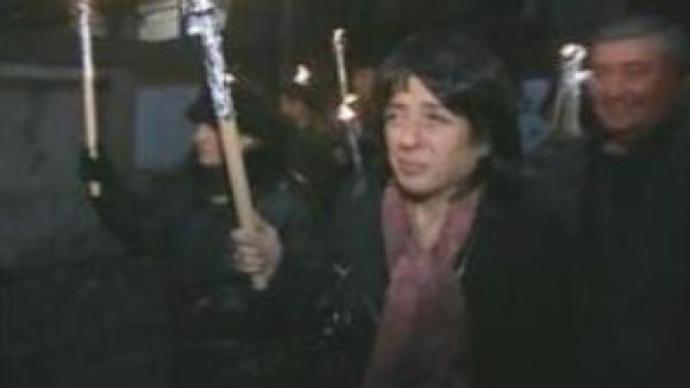 Hundreds of Orthodox Christians in Georgia are celebrating Christmas at home with their families. Meanwhile some have to spend the holiday behind bars. Several government opposition members still remain in jail for allegedly planning a coup.
Their supporters and relatives decided to celebrate Christmas in front of their prison. The Georgian prosecution service has completed the pre-trial investigation and preliminary hearings on the 12 people accused of planning a military coup in the Caucasian country. Their trial will start later in January.They were charged in September in an investigation which linked them to the ex-security chief, now an exile, Igor Giorgadze. The accused deny all charges, and say they've become political prisoners.
Their lawyer claims before the trial the defendants' rights were severely violated. Nevertheless four of the 12 accused now face further charges.
"Practically all these preliminary hearings and investigations did nothing for the investigation, they presented nothing that proves their guilt,"
says the lawyer Gela Nikolaishvili.
"But we have all the evidence starting from the mobile phone locations on the day they were accused of planning the coup, and the rest of the evidence we have, we will present at the trial."
The "Imedi Party's" leader Irina Sarishvili was also detained at first, but was later released. She says that she will not give up the fight.
"I promise this government that this case will bring this government down,"
declared Ms Sarishvili.
"It is going to be an end. I will give them plenty of surprises if they want it. And I will defend human rights."

It was her party's decision to join the families and supporters of the accused to mark the Orthodox Christmas Eve in a non-traditional and highly-noticeable way. They walked towards the prison holding flaming torches. The demonstrators stood in front of the gates and sang Christmas carols.
You can share this story on social media: