Georgian opposition demo in Tbilisi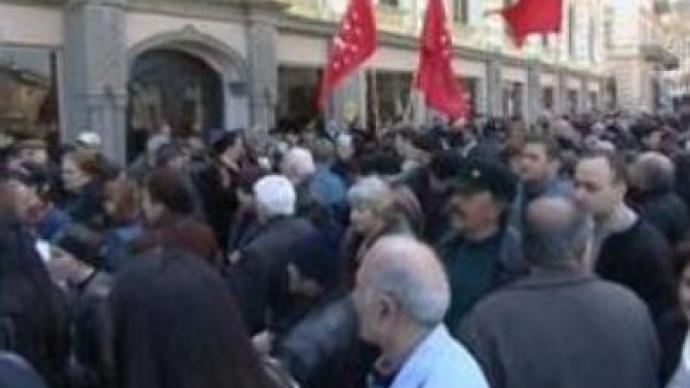 In Georgia, people have taken to the streets of the capital Tbilisi for a rally organised by the country's Labour party. They were calling for the resignation of President Mikhail Saakashvili.
The protesters say Georgia should become a parliamentary republic without a president.
A huge effigy representing Georgia's current president was thrown into the crowd before being torn into pieces and later burnt at the opposition demonstration – to symbolize public discontent.
Thousands of protestors condemned, as they called it, the failing government which was elected over three years ago following the bloodless Rose Revolution. The Labour party of Georgia was one of the organizers of the protest.
"Our demand to remove the President from power and abolish the presdiential post is becoming public and things are moving forwards,"
believes Shalva Natelashvili, the Labour party leader. The Labour party is convinced that the President must resign by any means. Some opposition leaders think that peaceful measures must be taken in order to remove President Saakashvili and his ruling party.
"I have my own views on that, I think the parliament should start discussing the impeachment of the Georgian President,"
said Koko Gamsakhurdia from the "Liberty" political movement. The government never reacts to any of the opposition's rallies. Inside the parliament the ruling party finds the impeachment idea ridiculous.
"This question is as important as life on Mars. This is my comment,"
noted Giga Bokeria from the United National Movement. There were people who were glad to vote for the National Party in 2004. Only three years later, they are gathering their signatures in the book to have their say. Almost 4,000 people attended the protest rally.
"Of course, I came here and put my signature in the book, I am a pensioner, poor, hungry man, everything is expensive, I cannot pay the bills,"
a protester said. The previous rallies that took place in Georgia's capital Tbilisi over the last few weeks were focused on social-economic problems, but the opposition had more political arguments against the government this time. The joint opposition has vowed to travel across the regions of Georgia to raise more public awareness.
You can share this story on social media: