Silent protest befalls Georgia's capital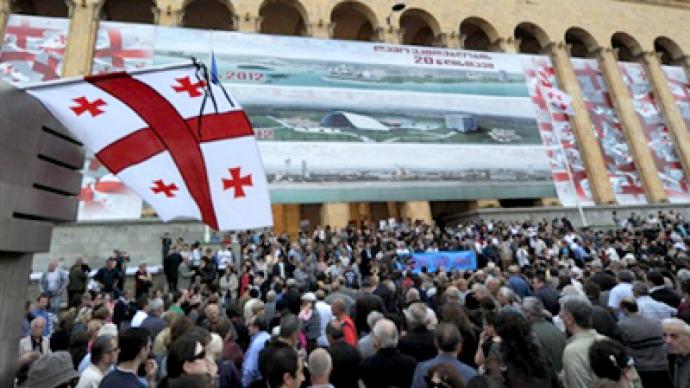 3000 people took part in a "Silent Protest" on Saturday in Tbilisi to mourn government actions against protestors earlier in the week rather than demand its ouster.
Some 3000 people gathered in the center of Tbilisi for a 'Silent Protest' to voice their opposition to the crackdown on demonstrators that took place in the Georgian capital earlier this week.Human rights and political activists, various nongovernmental organizations' representatives and regular citizens participated in this protest, showing that they stand together against the violent means used to disperse a peaceful protest against the Georgian government on May 26.The rally began at the monument to the medieval poet Shote Rustaveli in downtown Tbilisi, which proceeded down Rustaveli Avenue to the Georgian Parliament. All protesters had black ribbons tied around their hands.Two people died when police were breaking up the rally earlier on Thursday, many were injured and dozens arrested. The police action was branded as a "crime" during Saturday's gathering.The U.S. State Department has urged the Georgian authorities to investigate the violent crackdown on anti-government protests that left two people dead.In the aftermath of Thursday's events, the opposition claims a witch hunt remains in full swing, with those speaking out against president Saakashvili being detained or disappearing.
You can share this story on social media: