Georgia ready for fruitful dialogue with Russia: Saakashvili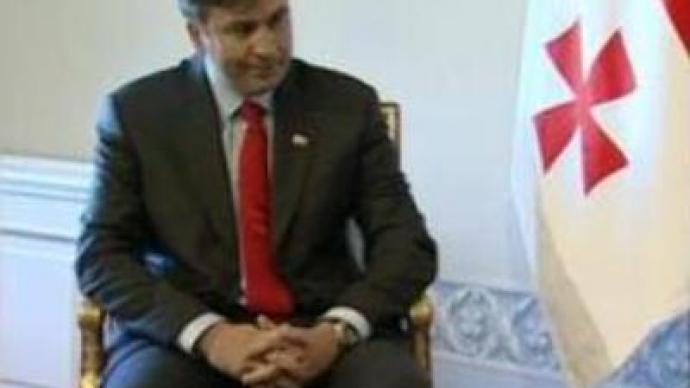 The President of Georgia Mikhail Saakashvili has met his Russian counterpart for their first bilateral meeting since a dispute last year over the arrest of several Russians in the Georgian capital, Tbilisi.
The Georgian head of state said there are a lot of interesting and acute questions to be addressed, but commited himself to always having friendly relations with Russia. Mr Saakashvili also said it was a pity he's meetings with Mr Putin are so rare.
"Georgia is not only ready for fruitful dialogue with Russia, it must also have good relations with Russia. And we should not only have good relations with this neighbouring country, but they should be close and friendly. It's the main strategic principle based on territorial unity and respect,"
stressed Mikhail Saakashvili.
"I was sure you would pay attention to our position on the basic principles of international law and first of all on the issue of the Balkans. We always insist that the principle of territorial integrity is maintained. Unfortunately now we see some attempts to violate this principle, which creates problems for us in the post-soviet area,"
responded Mr Putin.The most burning issue is the status of Georgia's breakaway regions of South Ossetia and Abkhazia, which are both seeking independence. Tbilisi considers them an integral part of its territory. Russia is holding peacekeeping mission in the regions.Since the election of current Georgian President Mikhail Saakashvili in 2004, the relationship has been strained by several times. When Georgia briefly detained four Russian soldiers and accused them of spying it reached a new level. Moscow cancelled air travel between the two countries and deported hundreds of Georgians it accused of being illegal immigrants. In response, Georgia complained about Russia to the European Court of Human Rights after a number of deportees died.All of which put the ongoing Russian ban on Georgian wine imports, due to health risks, into perspective. Talks go on, but the ban is still in place.
"I have an impression there is a movement towards each other, an understanding of each other's interests and an understanding that something should be done,"
Georgia's Foreign Minister Gela Bezhuashvili noted.Russian Ambassador to Georgia Vladimir Kovalenko says he wants relations to improve.
"Russia only wants to develop with Georgia relations based on the mutual respect, honest and beneficial for the two countries. The current problems can be overcome given both states to have a political will for that. And Russia has it,"
he said. Some experts say Russia is also concerned about Georgia's closeness to the United States.America has invested heavily in an oil pipeline which runs through Georgia and keeps a keen eye on the country's national stability and security.Meantime, Mikhail Chernov, an analyst from RBC international department says relations between Russia and Georgia are poor, especially when it comes to Georgia's breakaway regions.
"I think that the progress in the situation around South Ossetia and Abkhazia is very far behind. One of the main principles is the right of the nation to choose their own fate and their future. I think that negotiations on this issue will go on. In this situation when Georgia is Russia's opponent in nearly all the international questions and problems, I don't see the solution of the conflicts in the nearest future,"
he noted.
You can share this story on social media: