Saakashvili era ends as Georgia elects new president
After a decade of controversial rule, Mikhail Saakashvili is set to step down after Georgians elect their new president Sunday. Once a popular and powerful head of state, he steps down from a post that has been largely reduced to ceremonial functions.
Some 3.5 million Georgians are eligible to vote in Sunday's poll, with more than 50 percent of votes needed to win in the first round of voting. There is no minimum turnout requirement, and if a second round of voting is needed, it would be held within two weeks.
The new Georgian president will be a ceremonial figure thanks to a number of constitutional amendments adopted in the past year by the country's parliament. The reforms have been pushed through by Prime Minister Bidzina Ivanishvili's Georgian Dream coalition, which beat President Saakashvili's United National Movement in parliamentary elections last year.
Prior to Sunday's election, opinion polls put Georgy Margvelashvili, a candidate endorsed by Ivanishvili, ahead of the other 22 candidates, including Saakashvili's preferred candidate, former parliamentary speaker David Bakradze. Saakashvili himself is barred from running after two terms in office.
Ivanishvili, who is Georgia's wealthiest man, took to politics with the goal to oust Saakashvili and his followers from power. Before his party took control of parliament, he pledged to step down as soon as Georgia elected a new president. Now he says he intends to keep his promise, even though the office of prime minister currently holds much more power in the country.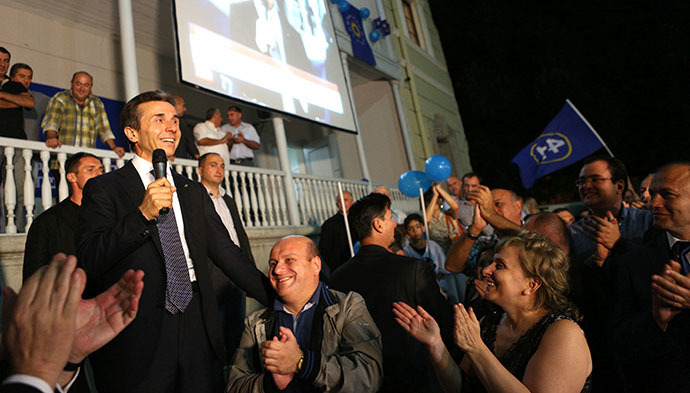 Saakashvili became Georgia's leader after ousting his predecessor, Eduard Shevarnadze, in the 2003 public uprising dubbed the Rose Revolution. Once in power, he took a strong pro-American stance, hiring a number of western advisers to help his ambitious reforms, sending Georgian troops to Iraq and Afghanistan to join the US- and NATO-led forces, and campaigned for Georgia's accession to NATO.
He enjoyed notable successes in reducing official corruption, cracked down on powerful crime rings and gave a boost to the country's economy with a combination of liberal reforms and foreign loans. The policies won Saakashvili widespread praise in the West as an example of success and a beacon of democracy in the post-Soviet space.
At the same time, Tbilisi's relations with Moscow deteriorated dramatically under Saakashvili, as Georgia accused Russia of betraying its role as peacekeeper in South Ossetia and Abkhazia. The two regions were parts of Soviet Georgia, but sought independence after the collapse of the Soviet Union. Both fought against Georgia in bloody armed conflicts, and Russia kept its troops in both enclaves to prevent further violence. Tbilisi said that Moscow was secretly supporting and encouraging the secessionists while opposing Georgia's attempts to bring them back under control.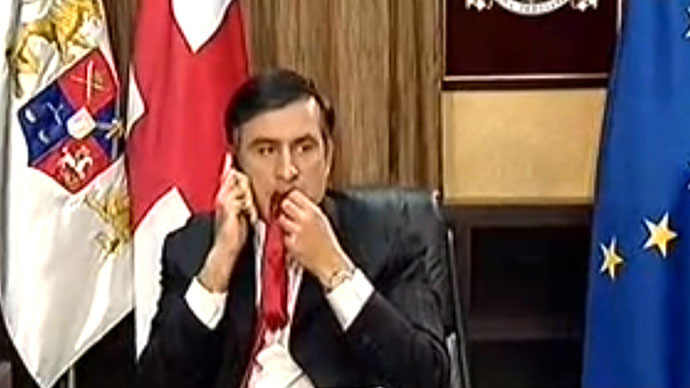 Moscow too voiced anger at Georgia, saying it turns a blind eye on militants fighting in Russia's troubled south, who found shelter in Georgian territory. The confrontation reached its peak in 2008, when Saakashvili's government sent its army to take control of South Ossetia. Angered by the invasion, Russia intervened, defeating Georgian the army and prompting a major diplomatic crisis with western countries. After the war, relations between Georgia and Russia were frozen for years.

The disastrous military campaign seriously weakened Saakashvili's support at home. However it was his increasingly authoritarian policies that led his party to defeat in the 2012 parliamentary election. His government launched brutal police crackdowns on opposition rallies in 2007, and again in 2011. Critics blamed his party of extorting bribes from big businesses, undermining the independence of the courts and the media and even accused them of political assassinations. The final straw was the release prior to the election of video footage from a Georgian prison, which showed inmates beaten and tortured by guards.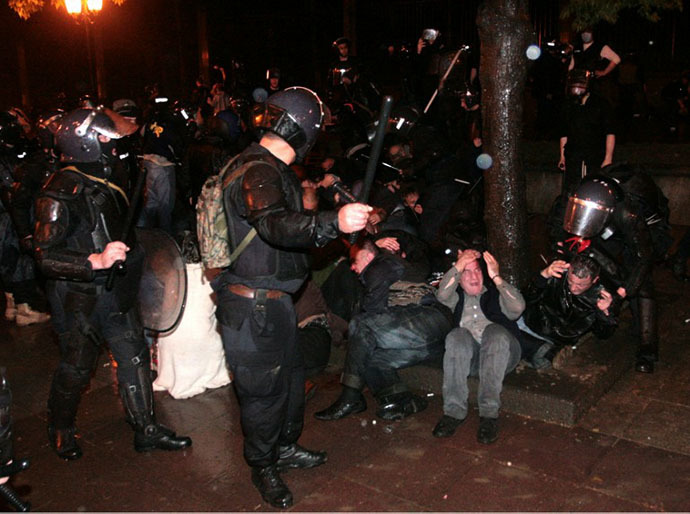 After the new parliament backed an Ivanishvili-led cabinet, Saakashvili's supporters found themselves in rough water. Several former top officials, including ex-Interior Minister Vano Merabishvili, were arrested, while others fled the country. Saakashvili enjoyed presidential immunity from prosecution while in office, but the new government has threatened to take him to court after his term in office ends on several occasions.

Over the past year, Saakashvili's role in Georgian politics shrank. Among his most recent actions, he delivered an anti-Russian speech at the UN General Assembly, campaigned unsuccessfully for Georgia to boycott the 2014 Sochi Olympics and made a posthumous award of Hero of Georgia to independent Georgia's first president, Soviet dissident-turned-nationalist Zviad Gamsakhurdia, who died in 1993.
Saakashvili has said that after leaving office he plans to retire from politics, live in Georgia and start a wine business.