Georgia pays last tribute to its first president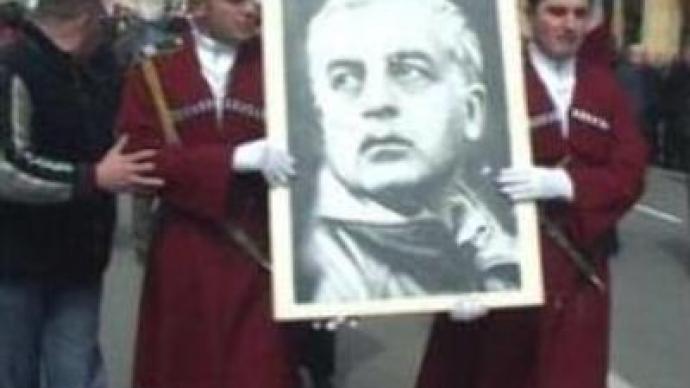 Thousands have gathered in the Georgian capital, Tbilisi, to pay their last respects to the country's first president, Zviad Gamsakhurdia. He has been reburied in the Pantheon for Prominent Georgians in Tbilisi.
More than 12 years after he died, the body of Georgia's first president Zviad Gamsakhurdia can finally rest in peace. On Sunday, tens of thousands of his supporters solemnly processed down Tbilisi's main street in tribute to the man they credit with winning Georgian independenceMr Gamsakhurdia, a prominent Soviet dissident, led the national liberation movement, and became president in 1991, amid the chaos that engulfed Georgia during the fall of the Soviet Union. His short rule was marked by civil unrest and a bitterly divided society. Shortly after taking office, his political opponents together with paramilitary groups, ousted him in a violent coup which saw heavy fighting in the streets of Tbilisi But now, 16 years after he was forced out, he is returning with the honour his supporters feel he deserves.
"I would love Georgian people and the whole Georgia to realize what the state political, religious and cultural ideals of Zviad Gamsakhurdia were. And I would love people to follow these ideals,"
said Konstantine, Zviad Gamsakhurdia's son.After fleeing to Chechnya, then controlled by separatist leader Jokar Dudayev, Gamsakhurdia returned to western Georgia to stage an insurrection. He was soon surrounded by forces loyal to the new government of Eduard Shevardnadze. On new year's eve 1993 he was killed by a single bullet to the head – controversy to this day exists as to whether this was self inflicted.Two months later, his remains were re-interred in Chechnya at the wishes of his family. Following the second Chechen war, the location of his grave was lost. That was until Chechen President Ramzan Kadyrov announced in March that the grave had been rediscovered. His remains were found in the republic's capital Grozny in a garden of a house he had received as a gift from General Dudaev, who had granted him asylum. Tests were carried out in Russia to determine the body's identity, and the body of Georgia's first president returned to his native land last week.
"We considered this as our duty to assist Georgia in reburial of the First President of Georgia. Russia rendered all necessary assistance to transport the remains of Zviad Gamsakhurdia and bury him in his native soil,"
says Vyacheslav Kovalenko, Russian Ambassador to Georgia.Gamsakhurdia was buried in the Pantheon of famous Georgians on Mount Mtatsminda overlooking Tbilisi, and now-at last-Zviad Gamsakhurdia is finally at rest.
You can share this story on social media: