George Bush visits Gerald Ford's funeral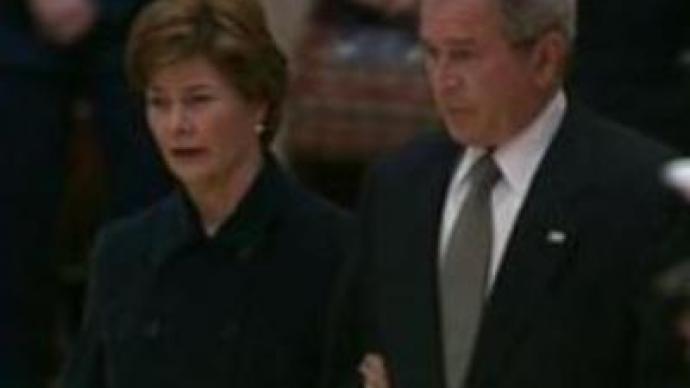 Hundreds of Americans have been paying their last respects to former president Gerald Ford. U.S. President George Bush was among those who visited the Capitol Rotunda in Washington where the body of the 38th President has been lying in state.
Guards of Honour carried President Ford's coffin to Washington's National Cathedral for a funeral attended by former presidents and foreign dignitaries. His remains will later be flown to his home town in Mishigan to be buried on Wednesday.Gerald Rudolph Ford was the only president in history to assume office without winning an election. He succeeded President Nixon following the Watergate scandal.He later granted Mr Nixon an unconditional pardon for any crimes he may have committed against the United States. The New York Times harshly critisised his decision saying it undermined his "credibility as a man of judgment, candor and competence."While in office, he oversaw the withdrawal of American troops from Vietnam, granting amnesty to the draft dodgers who fled to Canada. And in 1975, he appointed Donald Rumsfeld as the youngest secretary of Defence.In his foreign policy he continued Nixon's policy of relatively good relations with the Soviet Union.
He was a signee of the Helsinki accords, a document seen as a major step towards reducing the Cold War tensions.At his funeral the current President Bush said it was one the many things Gerald Ford will be remembered for. The late president is survived by his four children and his wife. He died last Tuesday, aged 93, at his home in Rancho Mirage in California.
You can share this story on social media: